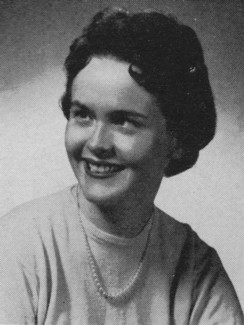 Patricia Cherie Yaw
Provided by Pat Yaw Jewett for the reunion of 2007:
I am a homemaker and missionary (always), living in Cape Coral, Florida. My husband, William, is semi-retired in the insurance field. We have four children, one of whom is deceased, sixteen grandchildren, and six great-grandchildren if you count "on the way." I am presently serving on our church board and membership committee and benevolence committee. I enjoy swimming and reading, mentoring, traveling.
After high school I attended The Ohio State university for a while, but graduated from King's Way Missionary Institute in McAllen, Texas. I have been a missionary in Columbia, South America and also in Mexico. I have made several mission trips to Bolivia, Guatemala, and Columbia, and just this year to Ireland.
My life's accomplishment is my obedience to God for His calling on my life as a missionary, both here and abroad.
---
Written to Marty Grimm on December 6, 2006
It has been my privilege to live such an extrordinary and adventurous life for Jesus Christ. It has been my honor to serve Him and to see His loving hand not only on my life but on the lives of hundreds. As long as I have breath and am able to travel, you all can be assured that I will be doing what the Lord asks of me. I pray all of you have been fruitful and happy in your lives. If any of you would like to get in touch with me, the reunion committee has my e-mail address.