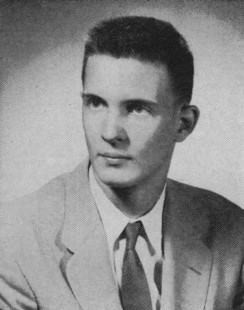 Daniel Cary Winters
I am still active in my business, PMW Auto Repair in Chillicothe, Ohio. I live nearby in Frankfort. I am also active in 4H-Junior Fair and the Ross County Fair Sale Committee. My wife, Jean and I raised two children and now are enjoying four grandchildren. We also find time to go to Myrtle Beach and Gatlinburg.
Looking back to school days, I will never forget our great victory over Upper Arlington to win the 1956 CBL football championship. And who could forget the car-in-the-school-building prank that we all pulled off so well!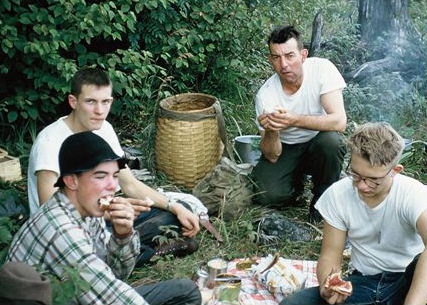 After high school I went to OSU for three quarters, then went to work for Jarvis Motors, a VW dealership in Chillicothe. I became Service Manager there and that experience led to the acquisition of my current auto repair business. Here I am enjoying lunch on a camping trip in the Canadian wilderness in 1966. Dave Handel took the picture. Tom Keffer and Heino Kull are in the foreground. Tom's Dad, Jinks, is in the background.
Due to my involvement with 4H and our Ross County Fair, I have found abilities I did not know I had. Along with Jean, I was a 4H advisor for 14 years, Sheep Barn Superintendent, and was the president of the Ross County Sale Committee for nine years. (I still serve on the committee.) My 24th year--not bad for a "city boy."
I still have great health; no meds yet. I have been blessed with a wonderful wife, Jean, for 43 years. I'm the luckiest man in the world!
---