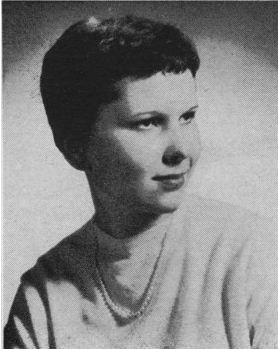 Judith Elaine Whirrett
Judy Whirrett Finn wrote for the reunion in 2007:
I am living in West Jefferson, Ohio with my husband George. We are both retired. I stay busy with crafting, sewing, reading and traveling. I am not computer literate. I guess I am just stuck in the past with the printed word. We have three children and three grandchildren.
At Grandview I always felt the teachers expected all of us to try our best, just get it, and behave. They showed a lot of forebearance and patience. Our Class of '57 was a great class of fine people. I remember Mr. Justus allowed me to take the mechanical drawing portion of his industrial arts class. This was before it became popular for girls to be enrolled in industrial arts or for boys to take home economics. Mr. Justus then entrusted me to babysit his grandchild.
After graduating from Grandview I enrolled in a few classes at Columbus College of Art. I worked as a draftswoman and assistant engineer at the "old" Ohio Bell Company. My avocational activities revolved around my children. I was active in my children's schools--PTA, etc. I was a volunteer at the school library. I worked with the Boy Scout Organization and I was nine years with the Campfire Girls (seemed like a lifetime!).
When I reflect on fifty years since graduating from high school, I am just happy to have raised three great children and to have survived to be able to enjoy them, the grandchildren, and the ease of my "Golden Years."
---