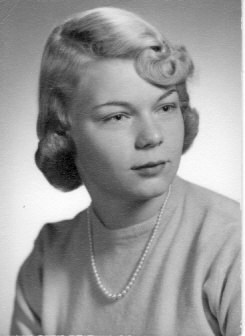 Judith Lynn Turner
Judy writes to classmates for the reunion of 2007
I'm hoping I can convince everyone to come to the reunion. It just fills me with pride to see how many wonderful professions our classmates have had and how some have pursued the enrichment of lives of others and I am looking forward to hearing more. There is so much time for you to re-schedule any commitment to make this date in October.

In school we had the "most popular", "smartest", "good-looking", "comical", etc., etc.. Now, even though some have become more wealthy or have bigger "toys", we all have one thing in common: Our memories of a time that we lived that other generations can only copy, but never feel. We were all friends then and we still are.

Just think of it!! 50 YEARS!!! And the best thing is we don't have to impress anyone. We are all heavier, thinner, balder; have gray hair, dentures, wrinkles and various medical problems. Who cares!!

So get busy, make those plans to be there. Get excited, get hyped! At our age it's good for the cardiovascular system! And to me it is not just remembering our times in school, but listening to what we have done, our travels, hobbies, dreams that did and didn't make it. Seeing the changes in Grandview, the school, the shops, eating WhiteCastles and even sharing tears with friends of places long gone and our classmates who are no longer with us. I wish I had kept in better contact with my friends and now is the opportunity to do that. This 50th reunion will be the best one we could ever have and I hope you will be as happy to see me as I will to see you - except Suzie Sherck and Marie Montbrand. Good Grief girls, just what are your beauty secrets? Compared to you I look like an overgrown Charpay puppy!!!!! But I will really be so happy to see everyone and everyone will be happy to see you.
---
Like most of you, I am now retired. I worked in the dental profession for 32 years, 27 with the same employer. I have a son, Chris, who lives with his wife Denise in Palm Bay, Florida. I have three grandchildren: Christopher 12, Nicholas 9, and Liam 3. I also have an "extended" family: Michelle, Ronnie, Angie, Tony and Bobby. Grandma Judy's grandkids number 14 from this extended family.
In 1990 I became guardian to Michelle, the youngest of the extended family, when she was 16 years old. I had known all of this family all of their lives. Their mother (we were best of friends) had passed away that year.
In 2002 Michelle, husband Eric, Kaitlyn, then 8, Justin, 6, and Austin, or A.J., 3, moved to Walhalla, South Carolina. Ten months later I retired and after 40 years in Florida, I moved to Walhalla, too.
Walhalla, population 3800, is located in the foothills of the Blue Ridge Mountains. The area is beautiful, has great parks and waterfalls, and experiences a brilliant fall season. We get some snow but rarely. The folks are very friendly--"Just down the road" could be one mile or twenty miles. Three people at a stop sign is a traffic jam.
Retirement (According to Webster) Withdraw from circulation; retreat; go to bed; secluded; sequestered; withdrawn permanently from one's daily work. Obviously this person of definitions lived in a vacuum and never had grandchildren! Now, if withdrawing from one's daily work means I don't have to do housework, cook, or do laundry, I might agree with that definition. But since I haven't won the lottery, my future housekeeper will have to wait.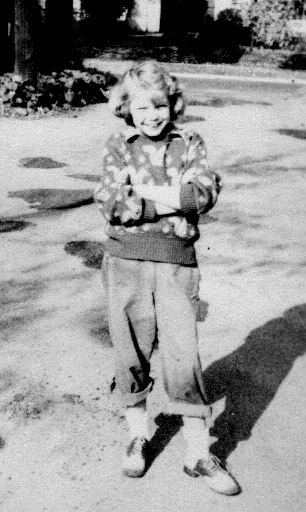 I am having fun with Shelly and Eric, helping with the grandkids, going to little league baseball, soccer, basketball, and wrestling.
I am sure all of us have wonderful photos like this from our childhood. I was 11 or 12 years old in this one. Last year I gave a "Living History" talk about the 40's and 50's to my grandson's fourth grade class. I think they laughed most at this one.
My days include going to the Christmas parade on Main Street, Octoberfest in the park, driving up the mountain, and hanging out with my neighbor/landlady/friend Katie in our craft/tinker shop, "The Henhouse", located between our homes. It has electricity, heat, air-conditioning, telephone, television, stereo--you know, just the necessities (well, maybe her husband did help a little). Oh, and a deck. The only thing that would make all of this perfect would be if my son and family were closer.
Looking back at my lfe, I will not brag about monetary gains or type of employment but having the opportunity to live my life with the values I had growing up in Grandview and the friends I had. I've always felt we had something so special and have tried to convey those ways to my family and friends and (laughing) sometimes was successful. our children grew up through turbulent times of change, the likes of which we never had to contend with but it is nice to see, in the small town I'm in, what the children have in the environment so similar to ours.
The memories of GHHS are just too numerous, but isn't it wonderful, after all these years, to be so happy to see each other again and still feel the bonds of our friendship then and now.