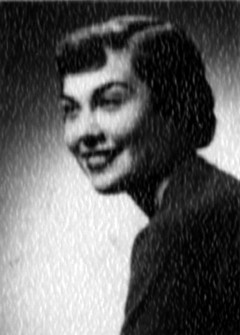 Suzanne Thomas
Provided by Susie Thomas Jenkins for the reunion of 2007
I live in Bay Village, Ohio (near Cleveland) with my husband Jerry. We have one daughter and three grandchildren. I am still teaching but on a substitue basis.
My avocational interests are knitting, reading, boating, gardening, and my Ladies Travel Group. I also volunteer at the Bay Village Senior Center and St. Augustine's Hunger Center.
I am so proud to claim Grandiew as my hometown. Yes, it has changed throughout the years. During junior and senior high school summers I worked at Van Sickle Office Supply. As I remember it was next to the movie theater. Is it now the site of an expensive gourmet restaurant? Although Grandview is now upscale and "chic", I loved the "chic" Grandview of the '50s; best location and schools. We were so fortunate to grow up in a safe, caring, and academically motivated community.
I still enjoy recalling Mr. Justus singing. And Romeo's pizza (second only to Mrs. Penzone's)...Mary Anne, do you have your mom's recipe? It was, and remains, the BEST pizza I've ever had! And Friday night football games, the Best of Times! Then there were the social times before school and during lunch in Study Hall. As for the senior prom--Don, I had a great time, but I was SO VERY nervous.
I do have one sad memory: the death of Meredith Tigner in our junior year; I so vividly recall the funeral (classmates were pall bearers). It was very hard for me to understand why a young person (my age) should die; the first of many "Life is short" lessons.
After high school I went on to Ohio University, graduated with a BS in Home Economics Education, and had a very satisfying career teaching Home Economics. Although I consider my roles as wife, mother, and grandmother to be my most important, I had the great honor to be named "Pubic Schools Educator of the Year" by the Cuyahoga County Board of Mental Retardation" in 2002 and 2004.
---
Written by Susie to Classmates in 1997
Writing about the last five years--my immediate thought is "where did they go?" Time is passing so quickly with too few hours for the important things like renewing old friendships. I missed the '92 reunion, but am determined not to let that happen in '97. Years 92-97 have been good ones for us. Our daughter Molly and family (2 and 9/10 children), the third one due on Labor Day, live within a mile of us. I'm #1 babysitter, teacher of Middle School (grades 5-8) Home Ec. and patient (?) wife waiting for my salesman husband to return home from numerous business trips. Our family is most fortunate as all are in good health and enjoying time shared with one another.
---