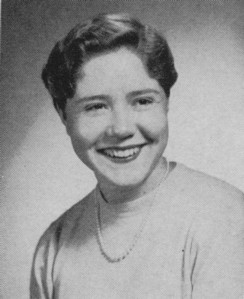 Dorothy Joan Tangel
Provided by Joan for the reunion of 2007
As this fiftieth reunion booklet goes to press, I am in the midst of moving within the state of Michigan from Marshall to Turtle Lake. I plan to be settled in by November if all renovation of my lake house goes as planned. The accummulation of thirty years of living in one house can be overwhelming, but I am determined to pare down and throw out. Currently my family includes three dogs and two cats.
After high school I enrolled in the school of nursing at The Ohio State University. As a freshman I was a member of the OSU women's varsity field hockey team, the varsity women's basketball team, and the varsity women's tennis team. After two quarters into my college education, I realized that I wanted to teach. I left my nursing aspirations and pursued a teaching degree in physical education. I earned my education degree in 1961.
My first teaching assignment after graduation was in Highland Park, Michigan, a suburb of Detroit. Here I experienced (pretty much for the first time) a group of children very diverse ethnically and socio-economically. Two years into my assignment at Highland Park, the school's budget was stretched to directions other than teachers' salaries, and all non-tenure teachers were laid off. I was lucky, because the personnel director at Highland Park was a personal friend of the personnel director of the Battle Creek Public School System and recommended me for any physical education position that they might have. I was hired at Battle Creek Public School System.
Early in the 70's while teaching at Battle Creek Central High, our system suffered three years of continual racially motivated riots. This was a very disturbing time--for the community, the students, the teachers, and for me. I remember that I did not feel that we were teaching much of anything anymore.
In 1976 I trained for and became a co-leader of a bicentennial bicycle group who were to bicycle across the United States. Our adventure would begin in the middle of June in Oregon and was scheduled to end in mid-August in Virginia. I decided to take this time to sort out my feelings about teaching and perhaps find a new direction to my life. My experiences with this bicycle group were life altering. I felt a tremendous love and trust and encouragement from the people whom I encountered while leading this group of young adults across our country. Motorists would stop and befriend our group of 16 as we bicycled the highways. Strangers gave us shelter and food. People we met were very trusting and offered us a key to their homes. "Just go inside, rest, watch tv, fix meals. We won't be home, but here's a key to get inside." I learned through this experience that our country had more to it than race riots. I could sense that the problems at Battle Creek were nearing an end. I returned to my teaching position with renewed enthusiasm. I ended up teaching at Battle Creek for 41 years. Most of my teaching experience (30 years) was at the high school level. The last eleven years I taught at the elementary and middle school levels. After 43 years of teaching, I retired.
Retirement allows me more time to devote to my hobby and love of training dogs and assisting other people in dog training. My main focus has been on the Shetland Sheep dog breed and the Cavalier King Charles Spaniel breed.
Other activities that I have participated in include coaching for 25 years with the high school teams in the various sports offered for girls. I also sang for four years with the Battle Creek Community Chorus. For five years I trained and then used my Shelties working with the Battle Creek Emergency Response Organization searching for lost people. I have also been involved with the Girl Scout organization.
As I reflect upon my growing up years in Grandview, I smile at the adventures I had with friends who lived on Broadview Avenue with me. And my circle of friends expanded as I experienced junior high school and then senior high school. I remember sorority activities with fondness. And the wonderful girls' sports activities where I participated in the many seasonal sports of field hockey, volleyball, basketball, tennis, badminton, etc. The Grandview School System was a feeling of family. It was one of the hubs of your life due to the activities that it provided. I think Grandview is unique in that way. I have great admiration of the teachers who were very dedicated to their students. The hours and hours of after school activities that the faculty devoted themselves to. We grew up in a very special place, and I am grateful.
---