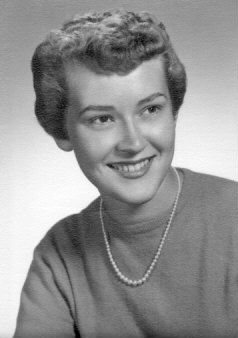 Carolyn May Rudy
Carolyn's Obituary copied from the Columbus Dispatch of March 9, 2013
Carolyn Rudy Jensen was born February 21, 1940 in Columbus to the late Robert Sale and Lois Arthur Rudy. She was the youngest of five children. Carolyn died under the care of Kobacker House on February 25, 2013. Raised in Grandview, she graduated from Grandview HS in 1957. She went on to graduate from The Ohio State University in 1964 with a BSBA from the Fisher College of Business (then College of Commerce) and with an MA from OSU's College of Education in 1984. She worked as an Academic Advisor in OSU's University College from 1985 to 2002. An avid reader, writer and swimmer, Carolyn enjoyed visiting art museums, listening to classical music and traveling through the United States and Europe. She was an avid collector of Christmas ornaments and decorations and of antique ceramics and glass. She and her husband were members of the Early American Pattern Glass Society, Transferware Collectors Club and other antique collector's organizations. A Docent with the Columbus Museum of Art from 2003 to 2013, Carolyn was a board member of the Grandview Alumni Association from 2007 to 2013. Carolyn is survived by her loving husband of 45 years, Daniel L. Jensen; son, Christian B. Jensen; brother, Dr. David Rudy and his wife, Rose Mary; brother, Theodore Rudy and his wife, Ellen; and by many nieces and nephews who knew her as 'Aunt Sis.' She is preceded in death by her brothers John and James Rudy. Her life will be honored with a Memorial Service, to be held at 12Noon Saturday, March 16, 2013 at First Community Church (main sanctuary), 1320 Cambridge Blvd., Columbus 43212. Private interment will be held at Union Cemetery. Cremation arrangements are entrusted to Schoedinger Northwest Chapel, 1740 Zollinger Rd., Columbus. Memorial contributions in Carolyn's memory may be made to CMA Annual Fund, Attn: Development Office, Columbus Museum of Art, 480 E. Broad St., Columbus 43215 or to Kobacker House, in care of Ohio Health Foundation, 180 E. Broad St., Columbus 43215. Please visit www.schoedinger.com to share a memory, picture or express condolences to her family.
January 1, 2011
Are we living on the moon yet? Are we encountering one-eyed, web-footed, lizard-skinned aliens yet? Although we've landed on the moon, in 1957 I imagined that by 2011 we would have befriended other forms of life. While technology grows in leaps, I suspect we wouldn't be any better with aliens than we've been in finding objectivity about people who are different from us in religious or cultural aspects. If aliens land on earth, perhaps we will pull together sufficiently to have Peace on Earth, if not in the universe.
We have reached the age where we read the obituaries faithfully and recognize that we should value opportunities to be with old friends. And there are no older friends than our classmates. So, if you come to Columbus, let someone know and we will put together a group for lunch.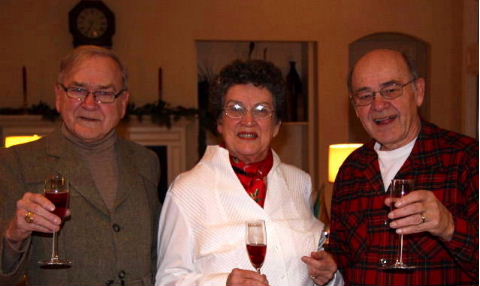 Here is a picture of Dave ('52), Ted ('55) and me at a gathering at Ted and Ellen's just before Christmas in 2010. I am grateful that the three of us live in Franklin County, as Jack and Jim were living in far-away states when they died of cancer, 21 months apart. Partly in memory of Jack and Jim, we three now have lunch in the months of our birthdays. The honoree picks the place and the other two pick up the tab. Each of us is involved in some project that involves learning new material; however, Dave is truly a life-long learner. He continues to work in medicine (albeit in a limited fashion) and recently took the strenuous recertification exam. He reads some of the ancients in their original Latin and attempts Greek, which he studied only in relation to medical terms. Ted creates fallen logs into wonderful carvings for his home, and spends time with his extended family. (My extended family includes a grand-dog and my son's live-in girlfriend/"spouse equivalent", Amy.) I continue as docent at the Columbus Museum of Art, which, through renovations and changing curators, there is always a new challenge waiting for me there.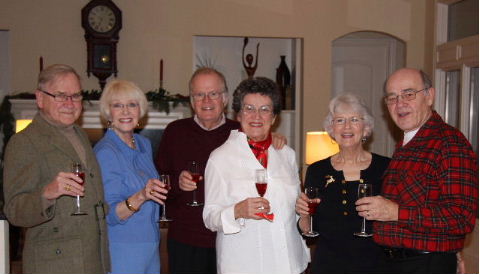 Here we are at the same gathering with our wonderful spouses.
August, 2008
Not much has happened for us since the 50th Reunion celebrations. We've mostly stayed close to home except for one trip to Berlin and Dresden… Germany, not Ohio. Berlin has two of each type of art museum, created when East and West had art to display. We had a marvelous time. We had been to Munich before which had not evoked the same feelings as Berlin and Dresden. We chose not to visit Buchenwald though we came within 15 miles of it. I felt about that as I did many Tennessee Williams' plays. When life is so short, why study the inhumane times?
How well I remember the war years. I have my ration book, which Mom had saved. She had a sense of history-in-the-making. (She saved my prom dresses too, proof that my waist was once that small.) From about 1947-50, Joan Tangel and I used to bring the wars into our neighborhood play by hiking to what we had dubbed "The First Desert" and "The Second Desert" just east of Grandview Woods and just north of the swimming pool. We hid in the gullies and imagined passers-by were German soldiers. We used to play soldiers going house to house in Germany by playing up on my garage roof with my brothers' rifles and helmets.  We did that until we "fell off the roof".  Then we found more peaceful games. The crazy division of girls' basketball courts divided into fourths brought home the second class citizen status of females. We, the "weaker sex", were restricted to 25% of the space the boys used for their games. In the swimming pool meets, however, we swam the same distances with the same strokes, regardless of gender.
How times have changed. Even after 60's, TV ads whispered the words "toilet paper"!  Now the 5th graders who come to the Columbus Museum of Art, where I'm a docent, stand in front of nude statues and talk about whether or not the male figure has "a full package" or not.  One girl said, "Oh yes" while the boy next to her said, "No."
The years we lived in Urbana, Illinois and W. Lafayette, Indiana were very healthy, or, "character building" experiences. Though not that far distant from where I grew up, these cities close to rural environments let me appreciate the special qualities of having grown up in my own small town. In many ways we classmates were raised in a village but the easy access to Lazarus, Ohio State, and the Jai Lai restaurant let us choose how big or how small we wanted Grandview to be. It turned out to be just right for so many of us.
Written to classmates by Carolyn Rudy Jensen from her home in Upper Arlington in 2007.
These are good ages for us. I am more content and happy than ever. Dan is semi-retired as a Prof. Emeritus in Accounting at Ohio State, which means that he finally lives the hours non-university people think professors follow -- summer and weekends off. I am fully retired!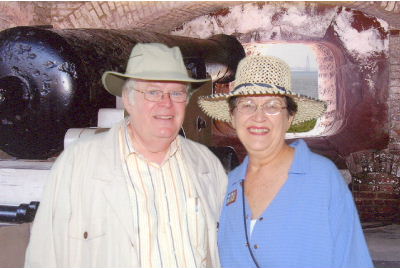 We jointly collect antiques in ceramics, pattern glass, art glass, and Christmas ornaments. Dan "trades up" by running an antiques business through which we can justify trips to Virginia, Iowa, and more, for auctions. Here we are at Fort Sumpter in June, 2007.
We both thoroughly enjoy opening our home to holiday open houses, university friends, and all of you! I really must stop refusing help with doing dishes though, or else go to paper plates. Washing up has become a real chore when the group is large.
There are currently over 60 descendents of Robert and Lois Rudy. There is a biennial, summer gathering in Colorado which regularly brings together about 45 of the older cousins, their kids, and the twins. Occasionally Dave or Ted and wives join them. Dan and I have done it once but our idea of roughing it is a Fairfield Inn with 2 beds. We don't do regular size beds with plastic covers in a National Park cabin, let alone eat standing up with paper plates and plastic forks.
The family also does annual Thanksgiving gatherings, also about 40-45 people. This draws in the Ohio centered younger cousins and their kids but not the west coasters. Obviously some of the family makes both. Our son is still single and just bought a house in Iowa City where he is an Asst. Prof. in Political Science. The most likely candidate for a wife would be someone who appreciates his warm heart and the 12 cousins who love him like a brother.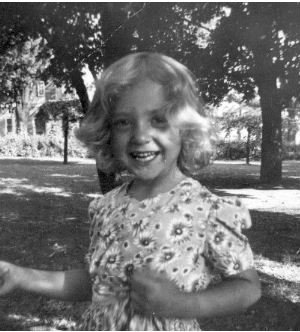 As a child, bragging points of my life included showing people the scar in my tongue where the Popsicle stick had gone through when I tripped and fell. Mom had hung me over the kitchen sink until I stopped bleeding, then had put me on the living room couch to suck on ice cubes. This was on Belvedere Ave. on the west side, the only other home in my childhood, besides 1146 Broadview.
Here I am in a dress my mother had made which matched one she made for herself.
Mom was a sensible, independent mother and expected the same of me as her child. My favorite photo of me shows me grinning proudly in my hand-me-down clothes and beside Ted's bike, which I had just learned to ride. It surprises me that my hair is combed in the picture. Soon after the picture was taken, I was given a used-girl's bike which was in much better shape. Ted, being envious, let the air out of its tires, and declared it broken. He said he would fix it if I traded bikes. I thought he was wonderful but Mom made him trade back, after pumping up the tires.
We had a family tradition that anyone could change bedrooms upon asking. I occasionally opted for the back bedroom with built-in cupboards but worried about hobos from the railroad tracks hiding in the cupboards after climbing up on the back porch roof to get in my window. When my imagination became too much for me, I would ask for the front bedroom over the front door. Eventually I settled on that one for keeps. I could look across the street through the trees at Joan Tangel's house.
We slept with windows open in summer and had no way of locking the doors. We took week long trips and met no surprises upon return, except Nancy Griffith sitting in the living room watching TV. (Being generally frugal, I was surprised when we became one of the first families to get a TV. Later, we would be one of the last to get color, which came after my parents had followed many Grandview families to newer houses in Arlington.) The house looked grand but had single-brick walls through which the cold winter air moved fast enough to move my bangs on my forehead in bed. We had a coal, gravity heat furnace which was easier to "feed" after we had a stoker installed. This was a bin which we filled and then a large screw moved the bits into the furnace on a steady basis. The grinding coal could sound just like footsteps on the stairs if you were alone and there were no locks on the doors.
Most of the Grandview neighborhoods look the same but the resident types have changed. Not long ago, I listened to a Grandview resident complain about not being able to walk on sidewalks without running into young, stylishly dressed couples (some same sex) walking large, pure-bred dogs. Grandview properties are often more expensive per square foot today than similar southern Arlington homes.
My life has not been as interesting as Galen Gonser's. I had many dreams of doing things like he did, and went so far as to inquire with Australia about emigrating. The rules and regulations were discouraging so I job hunted in NYC for a few weeks, then cashed in my father's "mad money" emergency check so I could get home. I had a degree in business but the only jobs offered required typing skills and I didn't have those!
Through volunteer work, after I married in 1968, I discovered that more rewarding experiences occurred when serving others, rather than when making money. Therefore, I have volunteered in hospitals, in schools as reading tutor, organized a group to produce a shelter for battered women, hosted exchange students, and currently talk about art in 5th grade classrooms for the Columbus Museum of Art. The most rewarding way in which I have earned money was as an academic adviser to undecided and poorly prepared students at Ohio State. In my spare time, I organized the Ohio State academic advisers into a support group but some (read, "my boss") thought it was a union and resented it. However, that and the battered women's shelter still exist and are my proudest legacies.
---