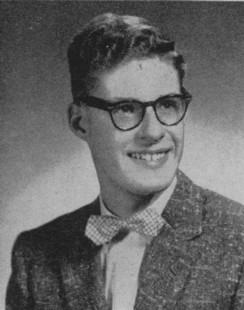 Steven Keese Raitch
I am currently working as a consulting architect with Peterman Associates in Findlay, Ohio, where I live with my wife Suzie, who is a retired realtor. Between us we have six children and eight grandchildren. My hobbies include model railroading, ship building, boating, motorcycles, and singing.



My favorite memories of high school in Grandview:
trying to put a small car into the school study hall
a great science teacher, Mr. Cornetet
a good French teacher
a nice principal, Mr. Beery
After high school I graduated from The Ohio State University with a Bachelor of Science degree. From Columbus I went to Huntsville, Alabama, then to Houston, Texas, then returning to Mansfield, Ohio and now Findlay. I was in partnership with Soulen & Associated in Mansfield, and owner/principal of SKR Associates, and a corporate architect with Marathon Oil Company. I have produced several significant buildings, institutional, commercial, medical and residential. I am licensed in ten states.
For recreation I have been in community theatre productions (65 shows), festivals, summer shows, and opera.
When I reflect about our class, I have warm memories of our class shows, the nice kids of our class, and parties at Susie Williams' house. I wish I had stayed in Columbus after college.
---
Written by Steve in 2006
Suzie and I are still in Findlay, with seven grandchildren and two more to arrive in July. Our oldest daughter, Katrina and her husband John are still with RCCM and on ship most of the time. Our youngest son, Drew, is still working to graduate in theatre from OSU late this year. I am still practicing architecture, can't quit, but am hoping to take more time off this year. Got the notice of the reunion next year and hope to attend.
---
Written by Steve to classmates in 1997
I retired from Marathon Oil Co. in 1995 and am practicing as a single proprietor (architect). I have returned to single status again and my 13 year old son lives with his mother in Columbus and attends Upper Arlington school system. I am having fun reconnecting old roots and friendships. My daughter is married and is still with Royal Caribbean Cruise Lines. She and husband live in Tampa and New York depending on the season. I am still active in theater and singing gigs.
---