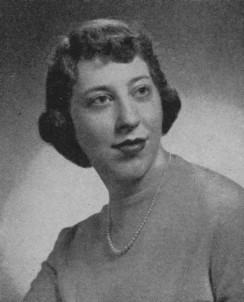 Karen Ann Rainsberg
Written by Kay Rainsberg Jackson for the reunion of 2007:
After high school, I attended Denison University and then earned BA, BS in Education and MA degrees, all from The Ohio State University.
An interesting and rather exciting experience I had occurred in the summer of 1959, before my junior year at OSU. I had gone to a national convention at the University of Illinois for students involved as members of Student Senates across the country. I was the Office Manager for OSU's Student Senate. A group of students from the University of Havana invited 100 students from the conference to visit Cuba as guests of the Cuban government and Fidel Castro. We had to write an essay to be selected. There were 4 of us from Ohio State, including the Student Body President and myself who were selected and went on the trip. The Havana students took us around on tours to various places, like their University, other Universities, etc. Nothing was open – all had been closed during the fighting. One time when I got on the elevator at my hotel there were two Cuban's in fatigues, ammunition bandoleers, and carrying automatic weapons – kind of scary. Everything was extremely disorganized. We would wait for hours and nothing would happen. Another girl from Ohio State and I missed seeing Castro, who only appeared for a few minutes to welcome the group one evening - the two of us had gone to the Copa Cabana night club, and when we returned we found the other students had been locked in around the hotel pool to wait for Fidel to show up. The four of us did get our picture on the front page of the Citizen Journal, and I was interviewed on WOSU Radio about the trip.
I entered the field of education as a teacher and taught five years in the Worthington School System. Upon completion of my MA program, I worked briefly as an archivist in The National Archives in Washington, DC. There I worked in an area with rows and rows of boxes on shelves. The boxes were filled with loose papers from the files of the Secretaries of different Cabinet Departments. I would be given a letter with questions about certain government activities. It was my job to go through the papers to find the answers to the questions; then, write a response. You call this research, I guess. Most of the material was un-catalogued, so needless to say, you could spend hours and hours looking for the answers. I then returned to Columbus and started teaching in the Columbus Public Schools. I taught History in several Junior High Schools (on the near east side and in the north end of Columbus) and then moved to a High School. I am now retired from teaching, having spent the last twenty years teaching English at Beechcroft High School.
I am married. My husband's name is Jim. We have no children. Jim recently retired from his job as a Special Agent. Through the years, Jim and I have attended many auto races, including the Indianapolis 500, the Brickyard 400 and various sports car races. When we got married, Jim was involved in officiating at sports car races at places like Mid-Ohio, and so we went to many of them. We've also gone to many Corvette events, since we have two Corvettes. About seven years ago, we went with another couple to the big Corvette meet at Spearfish in the Black Hills of South Dakota. The first day of the meet, we drove from Sioux Falls to Spearfish, across I-90 (some 450 miles) at speeds many times well over 100 miles an hour. With so many cars, the Highway Patrol just looks the other way. It was pretty exciting!
My current and long-term interests have included performing readings/monologues for several local organizations, and acting at community theaters. Two groups that I have been a member of for many years are Women in Music - Columbus and The Saturday Music Club. I have been on the boards of both of these organizations in the past. Over the years, I have been extremely active in my church. For the last few years, I have been singing in our church choir. I am presently on the church Board of Elders and involved in many of the church activities.
In the past I have acted in a number of plays in local community theaters – Little Theater Off Broadway, Players Theatre, Village Little Theater, and Emerald City Players. Some of the plays I was in are: "The Trojan Women", "And Miss Reardon Drinks a Little" (at two different theaters), and "Everything in the Garden". My most recent role was as Big Mama in "Cat on a Hot Tin Roof", but my favorite role was as Eleanor in "The Lion in Winter". A piece that I have performed a number of times was the play, "Anne of the Thousand Days", in which I acted out all of the scenes between Henry VIII and Anne Boleyn, playing both parts. It was probably the most difficult and draining piece I ever did.
In connection with my teaching in high school, I was the advisor for the drill team. Beechcroft High School had just opened so I had to do all the organization from tryouts to the rules, etc. The team grew from twelve to twenty regulars and six alternates over the years. The team performed with the band at all football games, parades, some basketball games, and eventually entered competitions. My last three years as advisor, the team won first place in the state in their division.
As far as an accomplishment, I am thankful for having had a good marriage. I am also thankful for being able to enjoy and participate in acting. From the time I was in a play in the 8th grade through to the present acting has been a wonderful interest and enjoyment for me. The fact that I was able to receive some awards and accolades for performances also helped.
I have so many special memories of Grandview—having close friends, walking everywhere, sledding down Urlin hill are a few or them. Class plays, talent shows, football games, going to Romeo's, working on the Bobcat newspaper also are all special memories to me.
In 1957, I remember the fun of going with Mary Anne Penzone to pick out her formal, coat, hat and gloves, of course, to wear for Homecoming. Driving was a new and exciting experience. I had great fun driving the girls around Grandview in my parent's pink Cadillac. Who knew then that pink Cadillac's would become a symbol of the '50s? I especially remember riding with Connie Hahn and others in "Flash" Gordon's Model T Ford (with rumble seat) around Grandview. To add to the excitement, Connie hadn't passed her driver's license test and the car didn't have license plates on it. Connie and I also rode around gathering up all sorts of items for the refreshments served at all the sorority events our senior year. We even had my father helping us make caramel apples and popcorn balls and tea sandwiches in my basement. We have laughed and laughed over the years about how inept we were.
Grandview was just a wonderful place to grow up in with a small town, close knit feel about it. Looking back on it today, I guess we were pretty naïve – but it certainly was a great way to grow up!
---
Written by Karen to Classmates in 1997
Well, I've finally left high school for good. After 33 years of teaching junior and senior high, I retired this past spring. It seems strange not to be going "back to school" this fall. Jim is still working as a Special Agent for the State Attorney General. For the past two years, we've been involved in an extensive building project at our house. For 1 1/2 years, we lived in two rooms and ate all our meals out. What an experience. Even though I still live in the Northwest area, it seems like it takes a reunion to get together with old friends. As each reunion approaches, I start remembering the old times and the fun-filled days of our youth. These remembrances bring a special glow and make growing older not as bad after all.
---