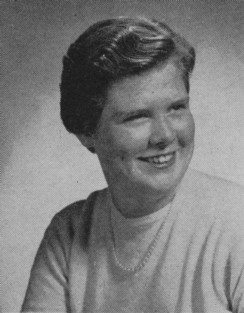 Jo Ann Rader
Excerpted from local newspaper obituary:
Mrs.Jo Ann Baily, 64, died at her home in Americus, GA on November 27, 2003.
Mrs. Baily, a native of Dade County, Florida, was born August 16, 1939, a daughter of the late William Aaron Rader and Dortha Jane Milligan Rader. She was the wife of the late James Oakley Baily who preceded her in death on August 11, 1978. She was a graduate of the class of 1957, Grandview Heights High School, Grandview Heights, Ohio. She was a loving domestic engineer.
Survivors include two daughters: Suzanne Baily Satterfield of Americus and Elizabeth "Beth" Baily of Athens, GA; a son, William Rader "Bill" Baily of Athens, GA; and two sisters, Kay Rader Altschul of Athens, GA and Jill Rader Hayes Caudill of Davenport, IA.