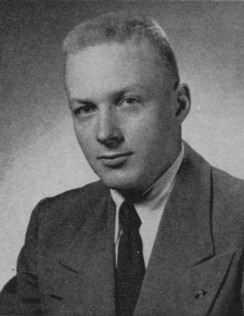 James Lee Myers
Contributed by Jim for the reunion of 2007
I am living in Powell, Tennesee (near Knoxville) with my wife Shirley. We have six children, nine grandchildren, and one great-grandchild. To keep busy, I buy houses with one of my sons and we rehab them and then sell them. I am also Associate Pastor at my church, the Crossroads Christ Fellowship.
My wife, Shirley (Allen) was a member of the North High School class of 1957. She is now retired from her career as a Registered Nurse.
Shirley and I had three children, one died. We adopted two. About the time they moved out of the house, we adopted a son and a daughter, each have learning disabilities. We home school these two (now in the 5th and 6th grades.)
I have many memories of my Grandview days: I remember almost living at the Grandview Swim Club. Being the first one in the pool in the mornings, to clean the pool, when the water was totally calm. The water had a certain wake up quality to it. I am not sure how they prevented ice from forming.
I remember the Grandview Theater and the Saturday matinees and sometimes walking home down 2nd Avenue, crossing the Boulevard to Holly when it was dark or getting dark. A lot of scary imaginations lived along that route. Also the movie theater on 5th and NW Boulevard next to the White Castle. I used to get White Castles and asked for extra onion.
I remember all the activities around Halloween, including the paper drive. We would ride in the back of a truck picking up newspaper bundles to take to the place on Goodale to recycle.
We used to play capture the flag after dark at the Oxley Park (the park across First Avenue from McKinley's Drug Store.)
I remember sled rides on Urlin Hill and any other hill we could find.
I remember being able to roam far and wide whenever I wasn't grounded. I enjoyed the woods between the RR tracks and Olentangy River Road from King Avenue, past the hobo/hermit shacks near 2nd Avenue on around past the quarries to the Scioto River up to the big park along the river around Lane Avenue.
Between my sophomore and junior years, I joined the Air Force Reserves at Clinton County AFB, Wilmington, OH. I became an aircraft mechanic. One of the pilots of the planes I worked on was Capt. Robin Priday.
After we graduated, Don Abbruzzese owned a pizza place while in dental school. I remember picking up pizza and while some people were making pizzas, Don would be doing his homework by carving on the teeth on a jaw bone (I assume a mock up of some kind.)
In 1967 I enrolled at Ohio State while working for the Franklin County Sheriff's Department. I received a BS in Economics after the summer quarter, 1970. That was the quarter the school closed down due to the riots. I was on a leave of absence from the Sheriff's Department in order to finish my studies. I was a student at a time the Ohio National Guard, Columbus Police Department, and others were not real happy with OSU students. I was tear gassed while changing classes and walking on the oval. It was an interesting perspective for a cop.
I went to grad school in Public Administration getting as far as 30 quarter-hours out of 45 required. When I started teaching with Columbus Public Schools I started a Masters in Education Administration. I completed 30 of the 45 credit hours there too.
For a while Shirley and I had a small farm (15 acres) in Madison County, south of Plain City (West of Hilliard). We raised, sold, and consumed a variety of livestock; mainly, though, we raised our 4 sons there. In 1982 we moved to San Antonio, Texas. All four of our sons went with us. Then in 1987 we moved to the Knoxville area. Our sons either came with us or followed us later.
By 1972 both my wife and I had been very active in a mainline denomination church, but then we realized that it is possible to be so involved in church and its activities that you miss the reason the church is here. We accepted Jesus into our lives and He baptized us with His Holy Spirit. I thought I was free and in control of my life before. It is amazing how misguided we can be and still feel 'large and in charge.' I encourage anyone who reads this to find a bible believing fellowship and search for the reason things are.
In retrospect I would like to say that we all were very fortunate to have lived in Grandview at the time we did. When I get back to Columbus, I see a big change. Grandview has not changed as much as Columbus has. It might still be a protected, safe community. I hope so for the sake of those who live there now. Our oldest 4 children talk about their time of growing up a lot like we talk about ours. They grew up on a farm when we were in a very community oriented church. There were a lot of kids in the church and the kids and the families spent a lot of time together.
---