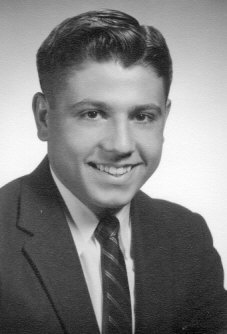 William Edward Morrison
Obituary published in The Columbus Dispatch on November 20, 2007
William E. Morrison, 68, of Port Jefferson, N.Y., died November 18, 2007. Graduate of Grandview High School, 1957. Served in the U.S. Army. Retired from the U.S. Postal Service. Preceded in death by parents John and Frances Morrison and brother Jim. Survived by wife, Pat; children, Debra Landis (Gary), Susan Meeks, William Jr (Elizabeth); grandchildren, Matt and Tim Riley, Megan Landis, Anthony and Brittany Meeks, Alexis, Sidney and William Morrison; sisters, JoAnn Frabott, Betty Burke and Frances Hargis (Bill); many nieces and nephews. Donations to Northport VA Hospital, Palliative Care Unit, 79 Middleville Rd., Northport, N.Y. 11768. Those who wish can sign the online guestbook at www.dispatch.com/obituaries.
Letter from Bill to the Class of GHHS of '57, dated October 3, 2007
I am sorry that I will not be able to be with you at our 50th reunion. I have always enjoyed coming back to see my old friends and classmates. I have received cards from some of you and I really appreciate receiving them.
The reunion always brought back fond memories of the things we did and got away with. Please know that although I cannot be with you, all of you are in my thoughts. My fondest wishes are that you have a marvelous time and think of me.
Love to all of you,
From your classmate Bill.
Written by Bill to classmates in 1997
I retired in Oct '92 after 34 years with the postal service. While with the postal service, I was relocated to Memphis, TN for nine years, New York City for six months and Chicago for the last three years when I retired as the Manager of Transportation Services there. I moved to Long Island, NY after retirement and presently live here with my wife Pat. My three children still live in Columbus and I have 4 grandchildren plus one on the way. I get to Columbus 3-4 times a year to visit.
I'm doing some consulting work for the postal service now. I just finished one year in Washington, D.C. helping to develop the new Priority Mail Network. I've taken a few months off but will probably go back and help them set up the facilities here in the northeast.
I really look forward to the reunions, and time has passed so quickly. It's hard to believe it's been 40 years. I think we were so lucky to have had such a small close-knit community and school, especially after talking to people here in NY who have never returned to their school's reunions.
Thanks to all who have put so much time and effort into this and other reunions over the past 40 years.