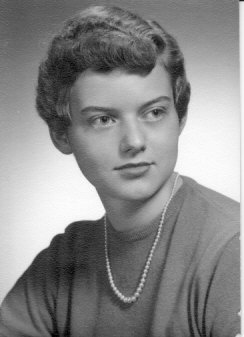 Jean Evelyn Moore
Provided by Jean Moore White for reunion of 2007
I am now living in Flagstaff, Arizona and have retired from teaching. I now have time for many activities. I am Secretary of the Board of Literacy Volunteers of Coconino City. I am active in Delta Kappa Gamma , the international Teachers' Honorary. I am an usher, lay reader, and serve on the personnel committee at church. I am a Family Food Center volunteer and a Lowell Observatory volunteer. I enjoy walking, hiking, traveling, knitting, baking, movies, yoga, gardening, reading, and - grandchildren.
Of Grandview, I cherish the memory of being able to walk home from the movies, and trick-or-treat all over town safely. I didn't realize it at the time, but it was a priviledge growing up in a safe, caring community with a great school system.
My favorite memory of our class is the senior class play.
After high school I attended OSU and was graduated with a BS in Education. I found my teaching career very rewarding, and my own children were, and continue to be, a source of joy.
Written by Jean to Classmates in 1992
Occupation-4th grade teacher; Husband-Nathaniel; Children-Grace (22), Andy (19), Charlie (17). I'm especially pleased that I can make it to the 35th reunion. I'm looking forward to seeing everyone.