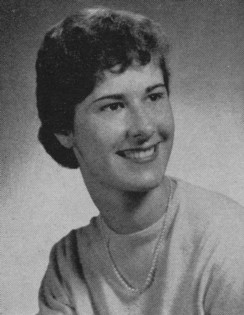 Marie Louise Montbrand
Written by Marie for reunion of 2007
I live in Akron, Ohio, and I am semi retired from a career of 44 years as a Social Worker in various capacities from welfare to child welfare to school social work to corrections to mental health to family service to private practice. I have been in private practice since 1983 and currently maintain a very small practice.
I received my BFA in 1961 and my MSW in 1972, both degrees from OSU. I lived in Youngstown, then New York for 1 year (in 1969). I have lived in Akron, Ohio, since 1972 when I moved here with my fiance. We married in 1974 and divorced in 1983. I have no children.
After 24 years I am still with Craig Griffin, an artist, graphic designer and 3-D modeler. In 2000, after my mother died, we bought a condo and moved in together. It has worked out very nicely for us. I have a small area around the condo to do gardening which I am enjoying. Craig is still working and, besides my practice, I am volunteering at Stan Hywet Hall & Gardens, the home of the cofounder of Goodyear Tire and Rubber Co., F.A. Seiberling and his wife, Gertrude. I started as a tour guide in 1995, but I am now working in the Collections Department which has been a wonderful experience, learning about textiles and clothing fashions. From 1996 to 2001, I also organized 11 Afternoon Teas and 3 Valentine Day Dinner Dances all in the 1920s theme. I am on Stan Hywet's Women's Auxiliary Board and on the Ohio Mart Steering Committee.
I have been a bird watcher since the early 1970s, and probably have over 900 species of birds on my life list. I banded birds for about 5 years at the Seiberling Nature Realm and had a Bluebird Trail for about 7 years. I was President of the Greater Akron Audubon Society for 6 years and have been the Society's Christmas Bird Count compiler since 1993.
Craig and I, when we are not bird watching, love going to hear the Cleveland Orchestra at Blossom Music Center, the Akron Symphony and Apollo's Fire (a Baroque orchestra), hiking and biking on the Towpath in the Cuyahoga Valley National Park, going to zoos, traveling to visit historic homes and museums and going out with friends.
I had the opportunity to travel a great deal with my mother throughout the states, to Canada, to South America, to various Caribbean islands and to France. We went on several cruises and motor coach trips (Craig was such a good sport, staying home and taking care of the dog and cats). Some of the more memorable trips were the cruise to see Haley's Comet (my mother got to see it twice in her lifetime) which included cruising on the Orinoco River in Venezuela with a side trip to see the Angel Falls, the cruise on the Amazon River and the train ride on the American Orient Express from Montreal to Washington, D.C., with various stops along the way.
As I read the various classmate biographies on the GHHS website, I marvel at how interesting my classmates all are and what a range of talents and interests they have. I so look forward to our 50th (oh my!) reunion to see and to catch up with everyone! I will be happy to see everyone all but, I will also be sad knowing that there will be some I will not see again.
---
Written by Marie to Classmates in 1997
Hello everyone! I am still working as a psychotherapist in my own private practice. I've been with the same group of physicians for almost 14 years. I would love to retire, but I guess I didn't plan for retirement too well. I don't recall people talking about retirement when we were in school. Do you?
To balance out my life, I have become very involved as a volunteer at Stan Hywet Hall and Gardens, the home of F.A. and Gertrude Seiberling. Seiberling was the founder of Goodyear Tire and Rubber Co. in 1898. The home is Tudor Revival. I am a house guide, but I have also been involved in organizing afternoon teas and a Valentine's Day Dinner/Dance. All these events are set in the time period of 1923. It has been most interesting studying that period of our history. Well, I could go on and on about Stan Hywet. If any of you would want a private tour, just let me know. I'd love to see you and show you the house.
My most recent venture with Stan Hywet is being co-chair for the communications booth for Ohio Mart which is the biggest fund raiser for Stan Hywet each year, and guess when that event is scheduled for? Yes, the same weekend of the reunion. So I may not see you all, but I will try my best to come. It would be great fun to see everyone and catch up on life events, romances, grandchildren (maybe great-grandchildren), aging, philosophies on life, 90 year old mothers (yes, mine is 90), etc.
I have been in a relationship for 14 years. Yes, I know, what's wrong with us that we are not married. Well, I've been there, done that, and as it is, we are very comfortable with each other. He's a great guy and is an artist.
Take care, everyone.