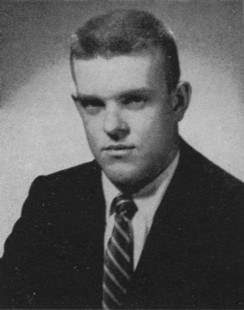 Arthur Russell Miller
Written by Art for the reunion of 2007
I am now retired and living in the woods beside Beaver Lake about 15 miles from the City of Eureka Springs, Arkansas, with my wife, Ginni (Virginia Jones Miller, Class of '59).
Ginni has not run off yet! We have been married for nearly 50 years and started going together in 1954. I think it will work out. We have three children – two boys and one girl. All are married and doing well. We also have five grandchildren – three girls and two boys and all teenagers. Three will graduate from High School this coming year. The two boys have their driver's licenses.
We are looking for more grandkids as our youngest son has advised us that they are ready to start a family. He has been out of college for five years and married a girl on the college track team. They like to extreme bike together for fun.
Just before I retired I was Claims Manager for an insurance company in Las Vegas, Nevada. Before that I owned an Insurance Loss Prevention and Adjusting Company, managed a body shop, and did silversmithing for seven stores.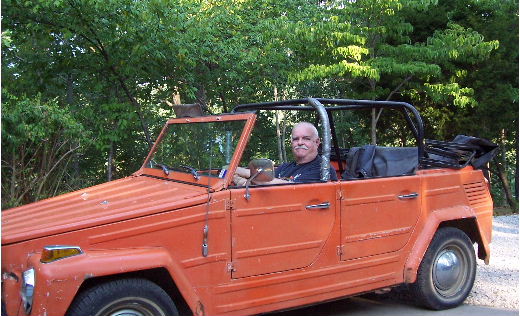 I currently spend most of my time remodeling our home and silversmithing. Ginni and I have a history of buying homes and remodeling them. We are still hard at it and with five bedrooms and four baths this house is a never-ending project. I also enjoy collecting antiques and fine arts and have two antique cars. Here is the country gentleman in his sports roadster.
I have been a Grassy Knob Volunteer Fireman for over five years and have had all the training of a paid firefighter. There are few fires in the area though, mostly grass fires. I am also treaurer of our Community Well. Association.
Our little town (population 2,300) is alive on weekends. Last weekend, the town was jam packed like a can of sardines for the Corvette Convention and Show, Bikes and Blues Festival Weekend, Art Walk and a Motor Bike Race. Jesse James was here riding his bike for this race and next weekend, Willie Nelson will be at the City Auditorium. Ginni is the Facility Director of the Eureka Springs Historical Museum and keeps me informed of what is happening.
In the past, my recreation included coaching football and track, woodworking, hunting, fishing, camping, trap shooting, and playing racquetball.
Ginni and I have both been blessed with good health and both of us stay very active. Life is good and retirement is wonderful. I stay so busy now I wonder how I ever managed to squeeze in time to work (for money - like a regular job.)
Special memories of Grandview for me include being a member of the 1956 undefeated football team, being a member of the Grandview Swim Club and a lifeguard, and competing at the State level in the shot put.
After high school, I went on to Capital University for two years, then studied insurance law for twelve years; equivalent to an MA in insurance company standards.
I am really looking forward to the 50th Reunion to be with my classmates and visit with them, but it will be a little sad remembering those who will no longer be coming.
Written by Art to classmates in 1997
After over 35 years of having one or more kids around, we have none (except for holidays and summers). Our youngest, Baby Art, the Monster, is in his freshman year at Calif. Lutheran. We do have five grandchildren. They are spread out from Texas to Argentina, so we don't see them often. Ginny and I are looking forward to retirement and are checking out likely spots to settle down in. Looking for something cooler than here, but still warm. (Art was living in Las Vegas at this writing.) Mountains and ocean are a plus. Hope to open up a little shop selling antiques and jewelry (my silver work) but nothing that will tie us down too much. Forty years and it sometimes seems like just yesterday!