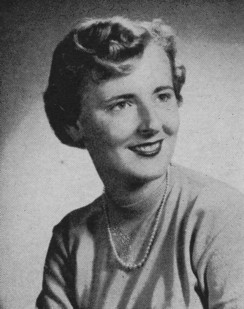 Sue Ann Messerschmidt
Written by Sue Ann for the reunion of 2007
I live in Gahanna, Ohio with my hubby of 48 years, Jack. We moved to Gahanna 40+ years ago.
After graduation I worked at Ohio Bell for several years and then stayed home to raise our 2 children, Keith and Terri. When they were established in school I went back to work. I have worked in the same dental practice for 36 years (and then some). Jack is retired from the USPS and I am trying to decide just when I will take the plunge.
We have enjoyed working with the Boy Scouts and Girl Scouts when our children were involved. We have all enjoyed camping, hiking and fishing and try to get away when our schedules permit. I have always enjoyed crafting and sewing and the last few years I have ventured into computers and computerized embroidery. I know just enough about computers to be totally dangerous but the embroidery part is fascinating. I have several machines and enjoy stitching for people when I have the time. Things do get pretty hectic around here. I must admit life is an absolute blur.
Our family has expanded a bit. We now have 6 grandchildren and 3 great-grands.
Grandview is such a wonderful area. I have so many fond memories of all of the friends and activities. From all of the football games and the pre-game spreads. Marching in the band and all of the different sports activities. Pledging a sorority and all of the dances. I have had such an enjoyable time reading about all of my classmates on the website. Such a wonderful mix of such talented people. It is amazing.
We will not be able to attend the class reunion this year but hopefully we can make it the next time. I hope that there are some extra booklets available. I would enjoy reading more about everybody.
---