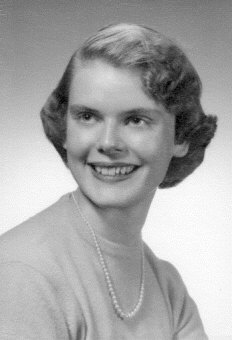 Jean Ann McQuilkin
Provided by Jean Ann for reunion of 2007:
I am now living in Los Angeles as I have been since leaving Ohio in 1963. I am Clinical Director (and Founder) of the Thelma McMillan Center for Chemical Dependency in Torrance.
I have a number of avocational pursuits: I have been in the same church choir for 42 years and am a member of the Madrigal Singers. I have been an elder of my Presbyterian church since 1976. I am a trained conciliator for the Conciliation Service of L.A. County. I am an active member of the L. A. chapters of Phi Beta Kappa and Kappa Alpha Theta. I love going to zoos, museums, symphony concerts, working out at the gym, swimming, and most of all spending time with the grandchildren!
In the past, I have been National Director of Mortar Board and Sectional Director of the California/Hawaii chapters. I have had poetry published and continue writing for special times or celebrations or haiku for small, precious moments.
Of my Grandview days, I remember especially the night we won the CBL and we all went to Prescutti's. I remember talent shows, "spreads", Dorcas Truckmiller, playing field hockey, and stretching out on the warm cement with my friends after a swim at the Grandview pool. I remember walking all over Grandview. I remember times at "the woods", like Brownie picnics with our leader, Mardelle's mother. I remember Easter egg hunts and Bonfire Rallies.
Regarding our class, I remember that we were the first to graduate in the "new" gym and I remember the day we finally got to stand up and sing "Seniors so mighty". I also remember the senior picnic where some couples wore matching outfits - we thought we were so cool.
Everytime I come "home" (and I still call it home), I love to walk around Grandview. My sons always ask me why we left. I don't really have an answer. Grandview gave me roots, a midwestern practicality, a sense of belonging that I always carry with me. Yes, even in L.A.
After high school. I went on to OSU where I got my BS in Education and BA in Psychology. I later got an MA in Counseling Psychology form Lindenwood University in St. Charles, Missouri, and a post-graduate certificate in Addiction Studies from UCLA.
Before I left Ohio I taught school in Columbus. Then later, in California, I taught in Los Angeles and Long Beach; my last years teaching drama in Middle School.
Moving on from teaching, I was an Addictions Therapist at Daniel Freeman Marina Hospital form 1983 to 1988, in private practice form '88 to '91, then started my current business in '92. Our center has very successful and is the most endowed of it kind except for the Betty Ford in Palm Desert.
Besides my business, I am especially pleased at having raised two young men to become accomplished in their careers and good husbands and fathers.
---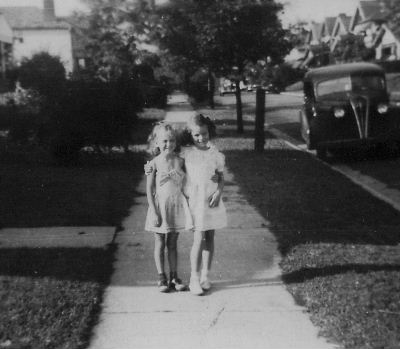 I recently ran across this photo of Kay Hudson and me. You guess the year.
---
Written by Jean Ann to Alumni Newsletter in Sring, 2006
Still working & passionate about it! Am partner in professional group specializing in substance abuse at Torrence Memorial Hospital; continue to live in same home since '71 in W. LA; visit Columbus every other year to see family & friends; 2 years ago took 5 hour walk around Grandview on lovely October afternoon--nostalgic remembering all the good times; see Grandview classmates here; learned to be tour guide through LA; have 2 sons, 3 grandsons; son Mike Presbyterian pastor in Austin, TX; Ryan, writer in Venice, CA. Life is full & good; looking forward to our 50th!! Love newsletter.
---




Written by Jean Ann to classmates in 1997

It's a clear picture -- blue sky day in Grandview as I write here on Mardelle's porch. This past weekend I've walked all around Grandview observing old haunts and the town's classy new decor. We've walked to the Ox roast, the high school, the football field. I traced an old shortcut from home to school behind what is now Spagio's Ristorante; stopped before windows at First and Grandview where we painted on Halloween. Memories flooded over me of classmates' homes, a September Booster parade; the sounds and crisp aromas of Friday night games; a CBL victory stroll to Presutti's, my first taste of pizza at Romeo's..my camera roll is full. Today I'm "home" in Grandview; tomorrow home is Los Angeles where I've lived more years of my life; where I've raised children and dote on grandchildren. I own a therapy practice with two partners; sing in my church choir, swim and walk my dogs in my westside hills. I thrive on the diversity and energy of Los Angeles despite its earthquakes, fires and riots. But Grandview is in me and owns me; my parenting skills, wisdom as a therapist, values, midwestern touches to my home--all reflect my roots. As I finish, I just saw the "green hills" of Grandview Heights on takeoff. It was fun; it was good. Love and health to you all.

---