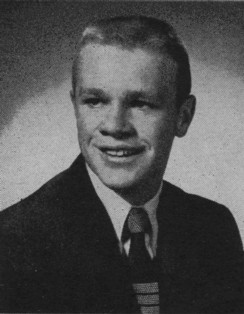 Bernard Wallace McIntyre
Obituary published in The Houston Chronicle on May 18, 2008
BERNARD WALLACE McINTYRE, JR. (Wally), 69, of Spring, Texas passed away on Wednesday, May 15, 2008 in Houston, Texas. Born March 13, 1939 in Toledo, Ohio to Bernard Wallace Sr. and Louise McIntyre. Married his wife of 45 years, Frances Wooten in Burlington, North Carolina on August 11, 1962. He attended Grandview High School in Columbus, Ohio and went on to attend Ohio University in Athens, Ohio where he earned a Bachelor of Science degree in Commerce. While attending college, he met his wife in Yellowstone National Park where they both worked for two years. After graduating, he began his 43-year career in insurance in Columbus, Ohio and retired from Willis Group in Houston as a Vice President in 2004. In 1969, he earned his CPCU designation and went on to teach classes in insurance. Additionally, since he always wanted to help other people, he enjoyed the three years he was involved with teaching third graders while participating in Junior Achievement. He enjoyed sports his entire life, whether participating or watching, most recently putting together and playing on a team that has stayed together for many years. His big love and enjoyment was his family and doing things together as a family. He is survived by his loving wife, Frances; two sons, Robert and Richard (wife Mary) ; one daughter, Kelly Shingleton (husband Thad); five grandchildren, Amber, Alexa, Haley, Madison and Campbell; brother, James (wife Lucy) and sister, Mary Lou; five nephews and six nieces. He was preceded in death by his mother Louise in 1983, father Bernard in 1986 and daughter, Barbara. Friends will be received 6:00-9:00pm., Monday, May 19, 2008 at Klein Funeral Home, 16131 Champion Forest, Spring, TX 77379. Funeral Service will be 1:00pm, Tuesday, May 20, 2008 at Northwoods Presbyterian Church, 3320 FM 1960 Rd W, Houston, TX 77068. Final Resting Place will be at Klein Memorial Park in Tomball, Texas.
Provided by Wally for the reunion of 2007
I am retired from my profession of property insurance underwriting and marketing, and living in Spring, Texas, near Houston. I now have time for my favorite leisure activies: reading books, following the local sports teams, traveling, and movies. Until I was 65 I enjoyed playing softball as well.
Of Grandview, I remember McKinley's Drug Store and Cokes for a white penny. I remember all the friendly people. Growing up in Grandview in the '50s was great!
After high school, I went to Ohio University and was graduated in 1961 with a BSc. Shortly thereafter, the stars being properly aligned, I met, pursued, and wedded my wife, Frances, while working in Yellowstone National Park. We now have three wonderful children and three grandchildren.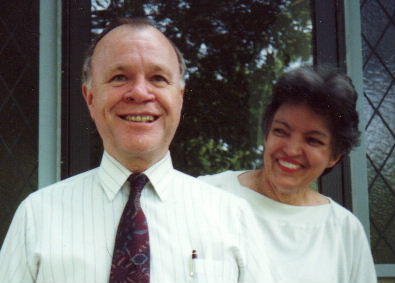 Wally and Frances enjoy the moment, circa 1992.