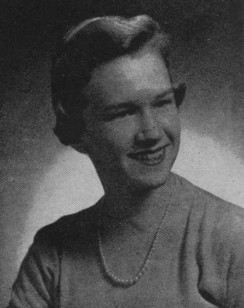 Sharon Lee McCloskey
Published in the Tampa Bay Times on Nov. 5, 2014.
Sharon L. Hahn, 75, of Oldsmar, passed away in the company of her loving family after a long illness on Oct. 30, 2014. She was a loving mother and grandmother, who adored spending time with her family and always arrived before everyone else to help cook holiday dinners and bring the pies for dessert. She was interested in family genealogy and loved to watch cooking shows on television. She served as the Municipal Clerk of Westerville, OH, from 1987 to 1999, and most recently worked as a receptionist at a beauty salon, where she made so many dear, wonderful friends. Sharon was preceded in death by her parents, Mary and Vincent McCloskey, brother, Terrence McCloskey, and sister-in-law, Ginger McCloskey. She is survived by her son, John Calhoun, daughter-in-law, Laurel Breton-Calhoun; and brother, Dennis McCloskey; granddaughter, Jennifer Dunn (Tommy); and grandson, Nicholas Breton. She is also survived by her nephew, Shane McCloskey (Danielle); and niece, Shannon Weber(Keith). A celebration of her life will be held 1-4 Sunday, Nov. 9, at the Gull Aire Village Clubhouse, 151-B Gull Aire Boulevard, Oldsmar. In lieu of flowers, please make donations to Suncoast Hospice at www.thehospice.org
Provided by Sharon McCloskey Hahn for the reunion of 2007:
After retiring in 1998 from my City Clerk position for Westerville, Ohio, I moved to Oldsmar, Florida a few miles west of Tampa, to be near my son. I work part-time as a receptionist in a beauty salon and I enjoy playing the slots at the casinos. I used to play golf until my carpal tunnel problems (which forced me to retire early from my City Clerk position) ended that.
Looking back at high school my fondest memories are of the L.A.L. Sorority and my friends there.
After high school I studied for three years to get my Certified Municipal Clerk rating which led to my position in Westerville.
I'm so sorry I won't be able to attend the class reunion. I wish everyone blessings and hope you all have a great time.
---
Written by Sharon to Classmates in 1997
The memories that stick in my mind are the good times we had with our sorority sisters and fraternity brothers which, of course, no longer exist. I was a proud member of L.A.L. and still have my pin in my jewelry box. Career continues to be City Clerk for Westerville, OH.