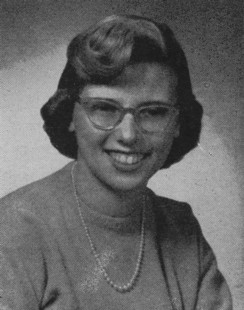 Betty May Lucks
Betty passed away on April 21, 2017 in Fort Myers, Florida, after a long struggle with idiopathic pulmonary fibrosis.
Written to classmates by Betty in July, 2008
I retired from teaching kindergarten back in 1998 after 27 years of teaching (wow, 10 years ago already).
We just had our 4th high school graduation for a grandchild this year. Having 11 grandchildren, we are almost on a yearly roll of attending graduations from high school and college.
In the 80s I had a lot of surgery on both feet, even was told I would spend the rest of my life in a wheelchair. I was then blessed by a doctor at the Institute of Joint Diseases in NY. He has me still walking. I only can run, skip and jump in my mind, not body. As I enter my 70th year of life, I like the fact I can take my time to smell the roses.
I have also been blessed to be able to enjoy summer year round by living in Florida, October to May/June, and on the Jersey shore, June to October.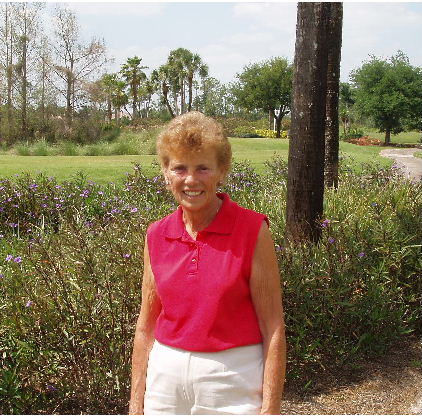 Here I am on "Candid Camera" at my Florida home. The photo taken by Mardelle's cousin who lives only two blocks away. Small world.
I still have my creative juices flowing. I have run golf outings for charity, created booklets, pamphlets, programs etc. One of my daughters-in-law has me now into card making. Just can't seem to get the kid out of me--still color, cut and paste.
I don't get to Columbus much, but when I do I hope I can get together with some of ya all.
Written by Betty to Classmates in 1992
Occupation - kindergarten teacher
Husband - Bill
Children - Bill, Jr (33), Chuck (32), Jack (30), Matt (28), Marybeth (27)
Grandchildren-Brian (8), Patrick (4), Andy (4), Sara (2), Charlotte (1), Nicholas born 4/15/92.
I remember slumber parties and pizza after the football games. Hope to see the old gang at the reunion and hear from old friends.