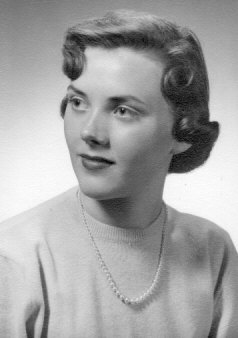 Margaret Ann Lottridge
Provided by Mitzi Lottridge Travis for the reunion of 2007:
I am retired and living with my husband Dennis, a retired developer, in Highlands, North Carolina, summers, and in Treasure Island, Florida, winters. I have one son and three stepchildren. I enjoy travel, duplicate bridge, tennis, and golf. (My claim to Ripley's Believe-It-Or-Not is making five hole-in-one's on the same hole at Highlands Falls Country Club.)
When I think back to our days at Grandview I remember the friendliness of our classmates. (I wish I hadn't been so shy.) I remember the fun at Friday night majorette spreads with other schools, the football games, the sock hops and sorority and fraternity dances. I wish all children could have grown up doing these things. I remember with fondness many of my teachers - Mr. Davis, Miss Pickering, Miss Derivan.
After high school I attended The Ohio State University where I was a member of the Buckeye Collegians. I graduated from OSU with a BS degree in Clothing and Textiles from the School of Home Economics. Through the years I have worked as a fashion illustrator and as a realtor. I have served on various club committees for Highlands Falls Country Club, Treasure Island Tennis & Yacht Club, Bayou (Golf) Country Club, and Suncoast Tennis Club.

---