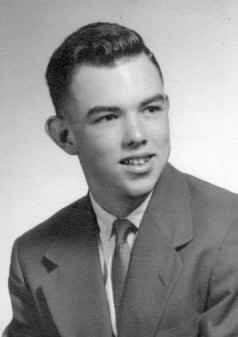 Thomas Allen Keffer
Provided by Tom for the reunion of 2007
In 2004, I retired after 44 years with The Columbus Dispatch/Columbus Citizen Journal. In 2007 my wife, Vicky, and I moved from my boyhood Grandview home at First Ave. & Hope Ave. to Zephyrhills, Florida. We have five children and (are you ready?) nineteen grandchildren. I also have two great grandchildren, each named Hayden; one is a boy, one is a girl.
I am currently an active freemason (Community Lodge #684) and have been for many years. I have served in various offices: High Priest Community Chapter, Illustrious Master Columbus Council, Columbus Commendry, Scottish Rite - 32nd degree, Shrine.
In the past, I have been a member of the Philateles Society, Eagle Scout & Vigil Honor, and Order of DeMolay - Legion of Honor. I was in the U.S. Army reserves for 32 years, retiring as an E-8 Master Sargeant
I am a Disney enthusiast. I have collected over 5000 Disney pins, have visited Disney World over 100 times, and have been on 13 Disney cruises.
From my childhood, I remember sledding on Urlin hill. From high school, senior day, and Dave Handel's car in the stairwell to Study Hall. I also remember Mr. Justus saying "My boy, my boy" and singing "Old Man River."
After high school and the Army, I went to OSU for a year, then Bliss Business School for a short time. I got into the newspaper circulation business and was District Circulation Manager for the Columbus Citizen-Journal.
---
Written by Tom to Classmates in 1997
I have 12 grandkids as of 8/26/97, and one due by 10/15/97. My daughter got married 8/30/97 to a guy that has three daughters, which makes 15 going on 16 grandchildren. Tell me I am dreaming. I am still with the Dispatch newspaper, 37 years now.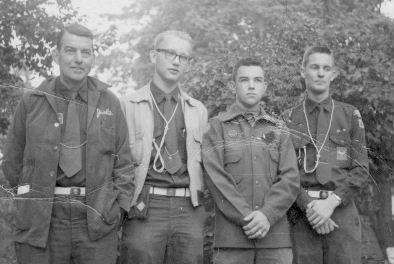 "Jinks" Keffer (Dad), Heino Kull, me, and Dan Winters; Scouts, one and all.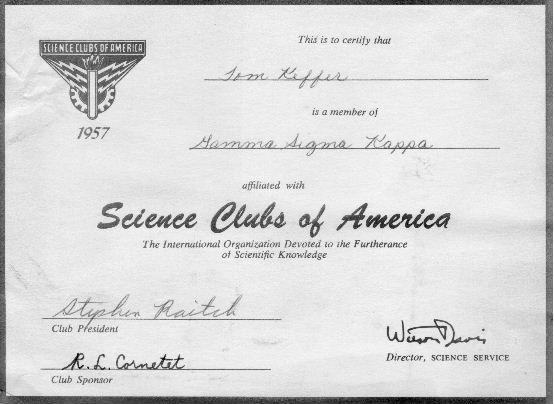 It's amazing what will turn up if you look.