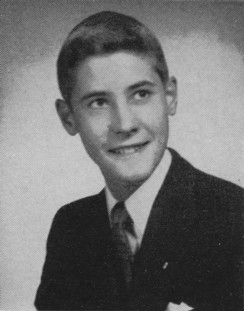 Andrew Titley Jones
---
SEASONS GREETINGS
Christmas sneaks up on us each year, and so as we sit down to write this letter, we have already received a number of your cards. Christmas cards both to and from us renew memories of the year about to end, and bring us a little closer. This year has been eventful; most days joyous, some less so, but all seem to have flown by. Time and health are our most valuable possessions.
We were joyous to have two more grandchildren born this year; Aaron Robert Jones, on February 6, to Dan and Emmie; and Charlotte Grace Solomon, on September 3, to Mark and Angela. They join five others. They will not be the last; Paul and Naoka are expecting another child in January.
We were grateful to successfully deal with Andy's prostate cancer, fully removed by robotic surgery.
We had great fun skiing with Caroline, Natalie and Ethan; watching Sela perform as Patty in the musical "Grease"; having friends visit us here; and traveling to Jamaica, St. Croix, Wisconsin, Colorado, Florida, South Carolina, California, and Texas. Running, racing, and Judy's tennis continue to keep us fit.
BEST WISHES FOR THE HOLIDAYS
Andy and Judy Jones
December, 2007
---
My wife, Judy, and I moved from Dallas to Columbus area in June, 2002; this past April I ran the Boston Marathon for 3rd time; ran Columbus Marathon October 19, 2003 which was my 12th marathon; did I see some of you there in the crowd?
Written by Andy to Classmates in 1997
After 28 years as a lawyer, I was offered the opportunity to change careers within GTE and lead a group of engineers, systems, marketing and sales and technical people who support GTE's eight international operating companies, located in Canada, Latin America, and the Far East. On the personal side, for the last several years I have really enjoyed competitive running, and have competed in probably a hundred 5K's, 10K's, 8K's, 20K's, 5 mile runs, etc the furthest being a couple half marathons. Right now, however, I am suffering from Plantar Faciatis, an inflammation of the tendons of the foot, and I can't run. This really bugs me because, after being a nerd all those years when I was growing up, it is really neat to be an athlete! (I'm going to get over this yet!)