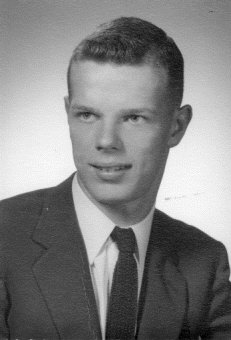 Bernard Lucian Ike
Obituary from Columbus Dispatch
Bernard "JR" Ike, 66, of Grove city, passed away March 14, 2006.
He was preceded in death by his parents Bernard and Margaret (Jinks) Ike. He is survived by his wife, Sara; sons, John, Patrick (Ronda), David (Elizabeth); grandchildren, Lane Patrick, Brooklyn Lee, Fionia Margaret; sisters, Carol (Tony) Donofrio, Nancy (John) Deckinga; and brothers, Randy and Jeff (Bonnie) Ike.
Bernard was a member of Our Lady of Perpetual Help and was an Assistant Scout Master for the Boy Scouts. He was active with Grove City Kids Association with soccer and basketball. Bernard enjoyed bowling, working on his home and landscaping.
Written by Bernie to classmates in 1997
Recovering at a slow frustrating pace from two heart attacks and two strokes that I had during the summer of 1996. Besides that, I've had pneumonia and shingles, which thankfully are curable. Throughout the ordeals, I've been encouraged by many classmates' good wishes and concerns. Thank you, thank you. Thanks also to the girls who have taken Sara out to add some fun into her schedule. Looking forward to the reunion weekend.