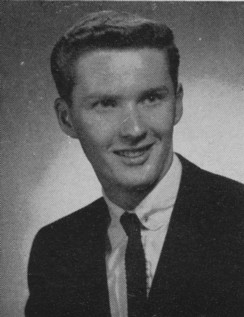 Roger Irwin Hoover
Obituary from Columbus Dispatch issue of Jan. 13, 2007.
Roger "Mickey" Hoover, 67, of Grove City, January 10, 2007, at Mt. Carmel Hospital. Employee of Hyde Park Grill. Survived by best friend and companion, Cindy Mullins; cousins, Sharon Cosgrove, Thelma Holmes; nieces, Susan Stroh, Lydia Gunderson; nephews, Tim, Dan, Dennis, John and Gary Lankford; numerous friends. Friends may call at the Deyo-Davis Funeral Home, 1578 W. First Ave, Grandview Hts., Sunday 1 - 3 p.m. Graveside service Monday 11 a.m. at Forest Lawn Cemetery, 5600 E. Broad St.
Written by Roger to Classmates in 1997
I am into my eighth year of working at Hyde Park Grill, a restaurant in Arlington, and I like it very much. I enjoyed seeing classmates at the reunion five years ago and, although I'm unable to join this year's reunion for the Saturday night dinner, I hope to join you on Friday and/or Sunday.