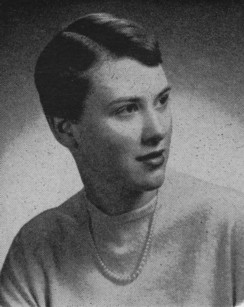 Madeleine Guggenaster
Currently I am tutoring several middle school children in reading and math, and managing a personal service company I founded in 1990 which includes complete home care services for traveling, super-busy executives in the Dallas/Ft. Worth metroplex.
My life continues to be a wonderful learning experience. My plan is to return to Grandview in 2008. I wish I hadn't been such a pack rat! Deciding what to give away, sell, and move is more tedious and frustrating than I ever imagined.
After high school, as a freshman at Ohio State University, my formal education was interrupted when, on November 8, 1957, I was in an automobile accident at the corner of First Avenue and Ashland. The doctors told my parents that I would not live through the night. I was comatose for a week or so and paralyzed on my right side. One of the five neurosurgeons believed the paralysis was due to subdural hematomas. On Thanksgiving Day, November 28, 1957, surgery was performed to search for and remove the blood clots. After many hours, two were found and removed and my paralysis was gone. Recovery took two years as I had various forms of aphasia along with muscular and facial nerve damage. It is God's gift that I am alive.
My formal education includes two undergraduate degrees, B.A. (major is psychology) and B.S. in Education, and several graduate courses in both Psychology and Information Technology.
In Columbus, I taught 4th grade for a short while, then left teaching for a non-teaching faculty position as resident technician and manager of the Infrared and Molecular Spectroscopy Laboratory, Physics Dept. at Ohio State University for 5 years. After that I was part owner of an employment agency for two years, followed by shift manager of computer operations at a local dairy, followed by 10 years as Systems Analyst for BancOhio. In 1984 I accepted the marketing manager position for all the banking software products at University Computing Company located in Dallas, Texas.
Traveling has always been fun. In 1997, I, along with my parents, two cousins, and many friends from the Columbus Mannechor, spent a week in Vienna celebrating Shubert's 200th birthday and took a cruise down the Danube past Budapest and then back upstream to Germany. The cathedrals, cities, and people were all a wonderful experience. CH, my male companion for 7 years, and I enjoyed many trips to Hawaii, Alaska, Machu Picchu, Panama Canal, Jamaica, Mexico and Brazil. CH was a chiropractor and lawyer who passed away in 2004. He was a delight in my life and is missed.
---