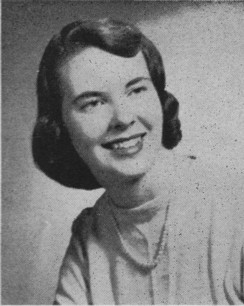 Gretchen Sue Gettinger
Provided by Gretchen Gettinger Grant fot the reunion of 2007
I have almost retired from the insurance business. My husband, Victor, and I had our own agency for many years. We sold it in 2000, but still work in the office with our daughter two days a week. We live in Lake Luzerne, New York, (about 50 miles north of Albany). I also volunteer at the local museum gift shop half-a-day per week. My leisure activities are reading, gardening, and knitting.
Looking back, I remember Grandview as a great place to "grow up". It will always hold a special place and fond memories. So safe - to be able to walk anywhere without fear.
Regarding our class, I remember the "flying up" ceremony from Brownies to Girl Scouts held at the Ohio State Penitentiary because our classmate, Ruth Alvis (daughter of Warden Alvis) lived there. I remember Mardelle Miller's mother was our Scout leader.
After high school I got an Insurance Agent/Broker's license and worked at that trade most of my life. I still take continuing ed. classes every two years to maintain my license. Also I used to be active in the local Lioness Club.
---
Written by Gretchen to Classmates in 1997
I'll be thinking of you all during the reunion. Sorry that I cannot make it this year. Family is growing. We now have five grandchildren all under three years of age.