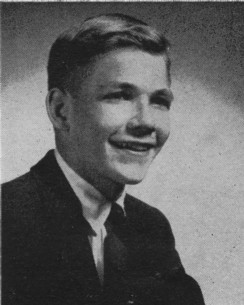 Robert Louis Fuller
Written by Bob for the reunion of 2007
I am currently living in Carlsbad, California with my wife of 45 years, Donna Lynn. I have been retired for 90 days, but I am going back to work shortly. I have been a buyer, merchandise manager, sales manager, and salesman at various times and companies. My career can be described as a great adventure with lots of travel including Europe and Asia. I worked long hours and had a great deal of fun.
My hobbies include spectator sports: MLB, NFL, NBA, and soccer, both on TV and at the games. I also enjoy keeping fit at the gym. In earlier decades my hobbies included fine restaurants and bar room activities, and associating with some great personalities.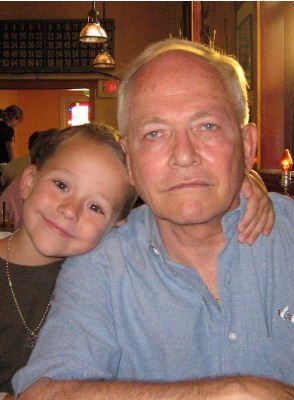 Donna Lynn and I have two children, Christopher and Tiffany, now 40 and 36 respectively. Chris is in San Diego and in the scuba travel and diving business since he was 16 years old. Tiffany is in the health care business in Michigan. It's a great family. We just did the Southern California thing with everybody--Disneyland, Lego Land, and Sea World in San Diego. We were all together just like always. I took them everywhere growing up--Marlin fishing, skiing, bike races, speedboat racing. Soccer was the main thing. All in local soccer two or three times a week. It's been great.
I have two wonderful grandchildren, Hannah, 9 years old, and Ian, 7 years old. Here I am with Ian in 2006.
I've thought about Grandview a lot over the years and all the people who were there then. It was a neat place to grow up in. Occasionally I would go back and drive the streets while remembering. I would see a house where a classmate or friend lived then, or the high school, or the playing fields full of memories of baseball, capture the flag, touch football games. Truly a very wistful experience.
I remember my pals: Buddy Mesi, Jim Bobbitt, Don Abbruzzese, Ron Capuano. The great card games at Buddy's house; Mrs. Mesi who was so great to us. Mr. Mesi's restaurant after the baseball season, and John Mesi's 1950 Ford were all part of it. Friday night football games and Romeo's pizza and then cruising in Jimmy Bobbitt's big Buick.
The Hay rides were great and the Halloween store front picture painting contest was great. So was the street festival afterwards. I still say that my Halloween picture was NOT that bad.
Proms were great for me when I could get a date. Certainly my senior year and my girl friend ...
The parties at different classmates' houses after the games or on the weekends were memorable!
My team mates on the baseball and basketball squads are frequently part of my thoughts. Here's to you, Charles Osborne, a natural talent.
Most of all, I remember the innocence of it all. Grandview was a great small town with the Grandview Theatre as kind of the social hub, its movies, a time marker. I remember Buddy seeing that we all saw every Frank Sinatra movie.
It was an extraordinary even time of our lives. I know I received a lot of support and guidance from my friends, teachers, and the system itself. I suppose mostly it was the 1950's and the values our parents carried forward from the War and depression years. They knew what was important. Thanks for the memories!
After high school, I attended Ohio State and graduated in 1964. I made the dean's list once or twice--another miracle! I've been in the apparel business for the last 48 years:F & R Lazarus in Columbus, Ohio for 12 years; Macy's Dept Stores, New York and Kansas City for 6 years; Walker Scott Dept Stores in San Diego for 2 years; Blue Bell/Wrangler Jeans in Greensboro, North Carolina for 9 years; Independent contractor in assorted apparel companies like Stetson Hats, Karl Kani Jeans, Enro Shirts, etc in the Western U.S. for 11 years; Big & Tall Retail Mall Stores in Brea, California for 7 years; Select Comfort Mattresses in Irvine, California for 2 years.
---