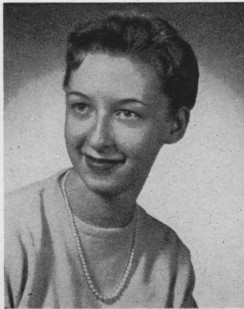 Eloise Kay Erk
Provided by Eloise Erk Coburn for the reunion of 2007:
I am retired and living in Ocala, Florida with my husband Jerry. We just celebrated our fiftieth wedding anniversary on May 29th. We have three children and four grandchildren. One of my sons is the business manager for a private school in Orlando, and I work as their accountant when I have time.
Before I retired, I was Vice President of Administration for a large paint manufacturing/retail company in Florida with two plants and eighteen retail stores. It was very traumatic for me to retire from my job and also from my position as music director/pianist at our church in Sarasota. In fact, the only way to make a break was to move out of town. Our home sold within a few hours of putting it on the market. We love it here in Ocala. We are adjusting to a new life and making new friends. God has truly blessed our lives!
When I think of a comfort zone, I think of growing up in Grandview. What a wonderful place. What great classmates. What great pizza!
---
Written by Eloise to Classmates in 1997
Looking forward to coming up in October and seeing everyone. Especially looking forward to Alumni night. Everyone is fine here. Mom turned 94 on August 30 (she lives with us in Florida). She and Jerry flew up to Ohio and had a nice visit. Of course I had to work!