Dan Franklin Denney
Dan lost his life in a fatal traffic accident in the wee hours of Monday, July 5, 2010. He was returning to his home in Columbus from an Independence Day celebration in Ashville, Ohio. He had been assisting a relative in the operation of a mobile snack bar there.
Here is an excerpt from the news item published in The Columbus Dispatch of Tuesday, July 6, 2010.

A 71-year-old Northwest Side man died of injuries suffered in a car crash on the South Side early yesterday. Dan Denney was traveling north on S. High Street toward Rumsey Road around 1:30 a.m. yesterday as Brittany Anderson was headed south, police said. Anderson, 19, of the Far West Side, lost control of her vehicle, which crossed into the northbound land and struck Denney's car. Denney was taken to Grant Medical Center, where he died at 3:41 a.m.
Dan attended the mini-reunion at MCL in May, 2010, and told us of his work in the snack business and of his continuing work (unpaid volunteer) helping the unfortunate.
Here is his obituary also published in the Dispatch:

Dan F. Denney, age 71, of Columbus, died at Grant hospital, July 5, 2010 as the result of a car accident. A founding member of Meadow Park Church of God. Retired from Franklin County Children Services, June 2009, after 48 years of service. Preceded in death by parents Florence and Lawrence and brother Ned. He is survived by beloved wife of 46 years, Diane; daughters, Jodi (Andy) Walliser, Nikki; son John; grandsons, John and Nicholas, all of Columbus; brother, Jack (Jennie) of Washington C.H.; sister-in-law, Kay Althoff of Massachusetts; a niece and several nephews. He was a loving husband, dad, and grandpa, a friend to many and will be greatly missed. He enjoyed reading and studying the Bible and was an avid OSU fan. Family and friends may call Thursday, July 8 at the O.R. Woodyard Co. Northwest Chapel, 2990 Bethel Rd. from 5-8 p.m. The funeral service will be held Friday, July 9, 11 a.m. at Meadow Park Church of God, 2425 Bethel Rd. Reverend David Shultz officiating. Interment Walnut Grove Cemetery. Family suggests memorial contributions to Meadow Park Church of God, in his memory,
Written by Dan for the reunion of 2007
I married my wife on September 1, 1963, her name is Diane and she graduated from North High School, 1961. We have three children: Jodi - 41 years old, John - 34 years old, and Nikki - 32 years old. They all live in Columbus. We have two grandchildren: John - 17 and Nicholas - 13.
I graduated from Ohio State University in 1961 in Social Work. I began my career at Franklin County Children Services in February, 1961. For 25 years I worked a second job at Rosemont School, a Residential Treatment Center for Disturbed Adolescent Girls, practicing Social Work. I have ducked under many yellow crime scene tapes, been "up close and personal" with every human sin and suffering I know. I have had my share of joys and sorrows, success and failures, but I want you to know I am no martyr nor hero, but I am Social Worker. I have come to love this Agency more today than I ever dreamed possible on that cold, gray snowy February morning in 1961. 1 still look forward to tomorrow at 0600 am and beginning a new day.
I am married to the most wonderful woman in the world, we have three wonderful children and two wonderful grandchildren. We are most richly blessed by God's Amazing Grace. And to think it all started at Grandview.
---
Written in UA News, issue of Nov. 29, 2006
Thirty-three years ago, while Dan Denney was exploring his new office digs in a small corner of the Franklin County courthouse, he found a handful of index cards with a few names and addresses scribbled on them. That was pretty much the extent of the training he'd received for his promotion. "This guy, his name was Carl, had been around for quite some time," and when he died suddenly, no one really knew a whole lot about the position, said the 67-year-old northwest Columbus resident. "I told them I'd take a look at it." With the help of juvenile court judges and a secretary, Denney began to piece together his new role. A few decades later, he has outlasted five executive directors at Franklin County Children Services.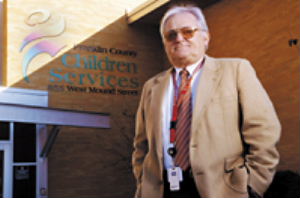 Earlier this year, Denney became the first person in the organization's history to complete 45 years of service, officials there said. He still directs the department -- now known as Revenue Enhancement -- spending most of his time Downtown working with the courts.
Denney's department hashes through all the complicated paperwork and legal hoops required to obtain funding from Social Security, child support, disability programs and various other sources that make up roughly 1/3 of the organization's $114 million budget. But he's a social worker at heart. Up until the year 2000, Denney capped his 40-hour work week by volunteering nights at the Rosemont Center, a home for troubled teenage girls on the city's East Side, often volunteering until 9 p.m. or later. "Somewhere along the line, a 10-hour day doesn't seem like it, and it stops being work," said the laborer in a field notorious for burning people out. "I can't imagine myself not coming here every day." His secret to longevity is pretty simple. "You just do what you can do, and you don't look back," he said. "I'm not some martyr."
Denney has watched as implementation of the organization's far-reaching charge -- to provide protection and care to children in need -- has changed drastically since he began social work during the 1960s. He graduated from the Ohio State University in 1961 with a degree in social work -- long before people commonly knew what social work meant. There were 12 in his graduating class, eight of which were females. "Not too many men in the field back then," he said. But he was at home in the field, coming from a family that often volunteered in soup kitchens and halfway houses, and he found the work exciting. After graduating, Denney spent a lot of time ducking under yellow police tape, escorting children from the scene of violent crimes. He would take them back to one of nine cottages that encompassed Franklin County Children Services at the time. "There were 20 of us fresh out of college and we spent a lot of time on the streets," he said. "They told us up front it was a 24-7 job."
Before the era of cell phones, Denney said, he memorized every pay phone in the city. Even as he's watched four generations roll through the county program, he's managed to keep focus. "That's the hardest part, when you treat the daughter for the same problems her mother had," he said. "The violence is cyclical," said Pam Prosser, a co-worker and spokesman for the service, but so is Denney's work ethic. He's known for showing respect and for his dignity, she said.
"I remember three or four years ago I had a conversation with a man who had committed incest, and he started pouring out his story, and I listened for three or four hours," Denney said. "He knew I could be subpoenaed for everything he was telling me ... he kept talking, and by the end, he said 'You're the first person who has listened to my story.' and he wanted to shake my hand." It wasn't easy, by any means, to show kindness, Denney said. But after 45 years, he's able to overcome the emotion. "No matter what I wanted to do to the guy, it's not my job to make judgments," he said.
Denney credited his wife of 43 years, Diane, for her support through the long hours. The couple have three adult children -- a nurse, a surgeon and a stock trader -- who shared a celebratory dinner with Brutus Buckeye at the organization's annual employee recognition reception earlier this year. The avid Buckeye fan shied away from committing himself to 50 years at the organization. But he acknowledged "my wife has stopped asking me," when she'll be able to spend time with her retired husband.
---