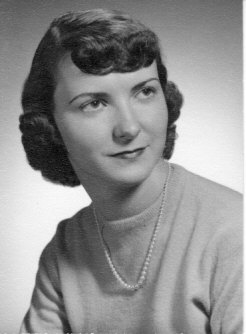 Joanne Day
Obituary published in The Columbus Dispatch on Oct. 22, 2017
Joanne Orr, age 79, passed away peacefully October 19, 2017. She is predeceased by her parents, Harold and Lillian Day. Joanne is survived by her loving husband of 55 years, Joseph Orr; sister, Jackie Cherry, children, Scott (Cynthia) Orr, Sallie Gordon and Sandie (Rodney) Howard, grandchildren, Cayla Orr, Chelsey (Scott) Ferguson, Catarina Orr, David Gordon, Daniel Gordon, and Samantha Gordon; great-grandchildren, Zoie, Violet and Lillian; as well as many loving nieces, nephews, extended family and friends.
Joanne was a graduate of Grandview Heights High School and was very active in the Alumni Association, where she arranged and planned many class reunions and events. She was a devoted member of the Maize Manor United Methodist Church. Joanne was always eager to volunteer for church functions whether it was the annual Rummage Sale, Vacation Bible School or the Helping Hands program. She was always there to lend a hand or a warm smile.
She loved to spend all her free time with her husband and her children, grandchildren and great-grandchildren. Joanne loved to cook for her family and tend her vegetable and flower gardens.
In lieu of flowers, the family would like to suggest a donation in Joanne's memory to either Maize Manor United Methodist Church or Grandview Heights Alumni Associataion, PO Box 12116, Columbus, Ohio 43212.
Friends and family may call Tuesday, October 24, 2017 from 4-6 p.m. at Schoedinger North Chapel, 5554 Karl Road, Columbus OH 43229. A memorial service will be held at Maize Manor United Methodist Church, 3901 Maize Road, Columbus OH 43224, Wednesday, October 25, 2017 at 10 a.m. Please visit our online guestbook at www.schoedinger.com to share memories or to leave your condolences.
Contributed by Joanne Day Orr for the reunion of 2007
I live in Columbus with my husband, Joe, a retiree from Anheuser-Busch. We have three children and six grandchildren. Joe and I enjoy traveling and camping in our trailer. I enjoy cooking, gardening, crafts and reading. I work out twice a week since having a heart problem diagnosed in 2000. I am also on the Administrative Council at my church.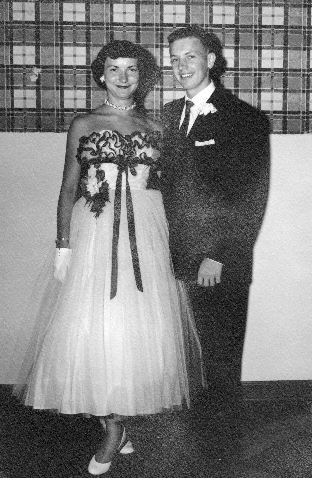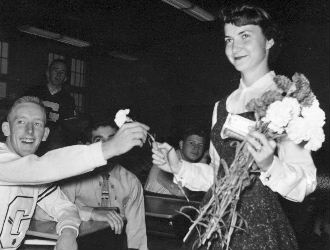 I have a lot of good memories of Grandview. The carnival, soap box derby, and painting of store windows at Halloween come to mind. Going to football and basketball games, school dances, and the talent show were fun. It was so great to be able to walk safely anywhere you had to go. We walked to the pool in summer and then in fall when choir practice started, some of us walked to First Community Church on Wednesday nights.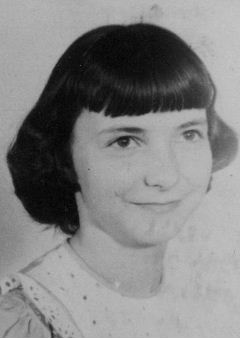 I remember playing kick-the-can in the alley beside Judy Turner's house with Judy, Dick Hankeison, Marcia Hull and her sisters till well after dark.
Galen Gonser and I have gone through every grade together since starting school.
Do any of you remember going to kindergarten on West First Ave across from the Library?
After high school I attended Bliss Business College. I worked for the State of Ohio and for a geology consulting firm before retiring to raise my family.
When my children were younger I was a leader in Brownies and 4-H, and I taught Sunday School. I also helped my husband and son train their dogs for sled dog racing. During this time I held several offices in the Siberian Huskey Club of Central Ohio. After Joe retired, we built a vacation home in the Adirondack Mountains in New York where we entertained friends and family each summer for several years. I am very proud of my success in raising three children and having a great marriage.
When we moved from Michigan back to Grandview in 1970, I had several surprises. When I registered our daughters in Junior High, I was pleased to find that the principal was Robin Priday. Then when I registered our son in second grade and signed up for co-room mother, what a surprise to find that the other room mother was Ann Rader Baily. Also Jim and Sally Shough were living across the street. I feel the friendships we made in Grandview are ones that last a lifetime. How ever long it has been since you have seen each other, you are never at a loss for words.
I think for all the different personalities, interests, and levels of education, we have done very well as a class keeping in contact. I have worked on every reunion except the tenth and have always been so happy with the response and attendance every five years. Let's make this one the best yet.
---
Written by Joanne to Classmates in 1997
We have enjoyed Joe's retirement by taking several trips to the South and the Southwest. Also have enjoyed our whole family visiting us at our summer home in the Adirondack Mountains of New York. We now have six grandchildren who live within 45 miles of us. I thought retirement would bring us more leisure time but it doesn't seem to work that way. I've enjoyed the interaction with the reunion committee and the reunions themselves. Aren't we lucky to be able to maintain these friendships 40 years after graduation?