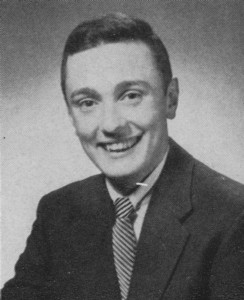 Ronald Anthony Capuano
Contributed by Ron for the reunion of 2007
I live in Marble Cliff now after living in just three other locations: 932 Thomas Road, 1355 West Seventh Ave, and 1186 West First Ave (where Cara Lou Smith used to live). My brother and I own Alfred's Barber Shop in Kingsdale Shopping Center. I've been a barber for 47 years. My wife Joann died in 1991. We had four children who have given us eight grandchildren.
My hobbies are golf, golf, and golf. And I can still beat Don at one-on-one basketball.
From Upper Arlington magazine; Sept, Oct 2008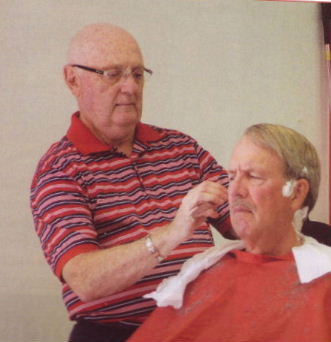 The More Things Change...Alfred's Barber Shop moves its location, but keeps everything else the same.
Most of us have grown accustomed to the fast-paced, constantly changing world in which we live. And for the most part, we are better off for the rapidly changing technology that inhabits almost every aspect of our daily lives.
Perhaps it is because of this change that we tend to hold onto traditions, ceremonies and events that have not changed much with the times. For instance, going to an OSU football game today is not unlike what going to a game was like in the 50's or 60's. Oh, there are changes to be sure, but the pageantry itself is almost exactly alike. Same for a Clippers game at The Coop, going to the Ohio State Fair or having dinner at The Top Steakhouse. There is a measure of comfort in knowing that your next visit to one of these"cultural institutions" will not be dissimilar to your first, no matter how long ago it was.
Much the same can be said of Alfred's Barber Shop, except that it has a new home after nearly 50 years at its former location in the Kingsdale Shopping Center. Call Alfred's old-fashioned if you wish, but owners Ron and Tom Capuano, nephews of founder Alfred, wear the moniker with pride.
Alfred Capuano opened the original barber shop on Jan. 26, 1959. Ron and Tom, both born and raised in Grandview, have been cutting hair at the shop almost since opening day, and often cut the hair of grandchildren of their original customers. The brothers reminisce about former customers Woody Hayes, Governor James A. Rhodes, John Bricker and more. Ron says that Les Wexner used to come in regularly with his father, until Les moved to the east side.
Not much has changed in the intervening years besides the move last month to 3237 Tremont Rd. (across the street from the Kingsdale Center) and a couple of the employees. Besides the Capuanos, Rosemary Devillers has worked in the shop for more than 25 years. She is joined by relative newcomers Ronda Wilson and Alysha Workman, who have both been employed for two years. The decor is much as it was in the former location: all "Scarlet and Gray," with Buckeye memorabilia throughout.
Alfred's is reminiscent of the old-fashioned barbershop you(men) went to as young boys. The clippers and scissors accomplish their tasks amid all sorts of banter on subjects ranging from Buckeye football to politics to Brett Favre, as well as the weather, good restaurants nearby and, of course, the price of gasoline. Alfred's is one of the few shops left that still shaves your neck with a straight razor, and offer full-service barbering (hair cut, shampoo, full shave). It is not a "hair salon."
In fact, there is nothing modern about Alfred's at all, which is part of the appeal. What transpires inside is virtually unchanged from the way it was in 1959. Alfred's is one of the few bastions that technology has not invaded. They still take your cash and put it in a low-tech cash register. Requests are not transmitted by computer (there isn't one around), and haircuts are not scheduled every 20 minutes. Okay, there is a huge flat screen television, but barber shops have had TV's since shortly after television was invented.
Then there is the simple comfort of dealing with someone who actually knows your name, remembers how you like your hair cut, and gives you a genuine "thank you" for coming in. Quite refreshing in our modern world, giving credence to the expression "The more things change, the more they stay the same."
---
Written by Ron to Classmates in 1997
Still living in Grandview. I have three daughters and seven grandchildren also living in Grandview. Still working every day. Widowed for the past seven years.