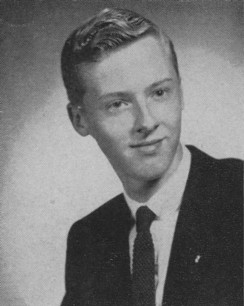 Ralph Taber Burson, Jr.
Contributed by Ralph for the reunion of 2007
I am retired from 38 years in Technical Publications at Honeywell in Clearwater, Florida. I now have more time for my stained glass and my wife, Anne. I also serve on the Board of the Miniature Art Society of Florida, and volunteer in the Pinellas County schools and the Honeywell Retirement Club. I have one child and two grandchildren.
Do I have memories of growing up in Grandview? Let me list them.
The Soapbox Derby on the Grandview Ave. hill
The Grandview and Boulevard movie theaters
Romeo's Pizza
Leonardo's Pizza
Ox Roast in the park below the hill
Sledding on hill in my yard
Carnivals on the lot north of the football field
Ice skating on the quarry
Working for the Tri-Village News
Going to the drug store on Grandview Ave. after school and having a cherry coke and a Hostess Cupcake
Painting the store windows on Grandview Ave at Halloween
And how about the class of '57?
Car in the school lobby
Going to Army reserve meetings
Playing basketball at my house
Adonis fraternity
All night fraternity parties
Being football manager
My 49 Ford
Talent shows
Mr. Justus's songs and pinches
Mr. Cornetet's funeral
Coach Priday
School assemblies as seniors
Decorating the gym for dances
Barber shop singing
The Mickey Moore campaign for president (MIC-KEY-MOORE)
After high school and Army service, I attended OSU, Ohio Technical Institute, and Nova University, and went to work in the Technical Publications field.
Over the years, I have enjoyed bag piping, tennis, cross stitch, and Scuba.
Some of the major events in my life are
Having a Son
Moving to Florida
Grandchildren
My second life
Seeing the stars from the top of Mauna Kea on Hawaii
Seeing the total eclipse of the Sun in the middle of the Black Sea
Around the world vacation
Elementary school volunteer (senior) of the year
Seeing my first commissioned stained glass window installed
38 years with Honeywell
Retirement
---