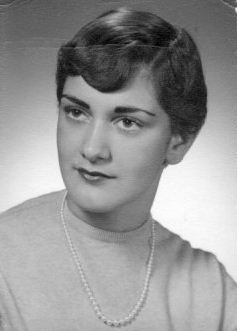 Rita Marie Borghese
Provided by Rita Borghese Berninger for the reunion of 2007
I am now retired after an 18 year career as a Program Analyst for the Energy Department, US Navy Laboratory, Port Hueneme, CA. With George still working part-time, we spend our time between our homes in Camarillo and Palm Desert, CA. We both enjoy playing tennis, bridge and hiking the beautiful mountains in Palm Desert. I enjoy reading, as well, and hope to take up golf so that I can join George and our friends on the links.
We have three children and have received great satisfaction in their maturation and accomplishments. They have given us great joy and all have degrees, with two earning advanced degrees. Our youngest son, Scott, and his wife have blessed us with two grandchildren, Annette, age 3 1/2 and Austin, age 1 1/2. We enjoy them immensely.
I have many fond memories of Grandview, which will always be close to my heart. Of my school days, I remember the slumber parties at the Rudys', the Grandview pool and meeting there twice a day to swim, laugh, and discuss our latest crush. I remember the friendship and support we gave to one another and the closeness we had. These will never be repeated or forgotten.
After high school I attended Ohio State University and left to teach third grade at St. Augustine Catholic School in Columbus. I also coached their 7th/8th grade girls basketball team. After two years of teaching I joined General Telephone & Electronics as a Sales Representative and traveled three states selling Yellow Page advertising. After marrying in October, 1965, I continued with another company as a sales rep in Alexandria, VA until we moved to Southern California in March, 1966 as a result of George's job transfer. I have lived in Southern California ever since. While working full time, George attended evening schools receiving his Masters and law degrees. He is currently practicing law three days each week.
Over the years my activities have been: Junior Women's Club of Camarillo, board member of the Pleasant Valley Hospital Auxiliary, vice-president of the Camarillo High School PTA, vice-president of the Meadowlarks Service League (a part of Children's Home Society fund raising group), and president of the Camarillo Newcomers Club. I presently enjoy being active in a spiritual group at my church. I also found time to receive a degree from Ventura College. In September 2002, I did the 3 day, 60 mile Avon Breast Cancer walk from Santa Barbara to Malibu. In doing so I raised nearly $3000 for Breaast Cancer Research.
---
Written by Rita to Classmates in 1997
I can't believe it--40 years! I am a Program Analyst at the Naval Engineering Service Center which is on the coast of the Pacific Ocean in Port Hueneme, CA. This is my busiest time of year since it is our fiscal year-end, but I decided at the last minute that I just couldn't miss the opportunity to see everyone once again at our class reunion. I often think of Grandview and the dear friends that I have made during those wonderful but sometimes difficult years. The dearest friends you could ever have are those that have known you in your youth. My most memorable occasions are those wonderful fun-filled slumber parties at Carolyn Rudy Jensen's, where we would talk till the wee hours of the morning, sharing our thoughts and dreams. Also meeting at the Grandview pool during those long, hot but wonderful carefree summers.
We moved to a new home four years ago, further out in the country in Camarillo and have enjoyed the spaciousness of our yard and the wonderful abundance of wild life that visit us. My husband George and I play a lot of tennis and have recently taken up hiking. George is still practicing law--his specialty being estate planning and business law. Since the last of our three children have graduated from college, we have traveled to Japan, England, France and Italy. Our next trip will be Germany. Looking forward to seeing everyone.