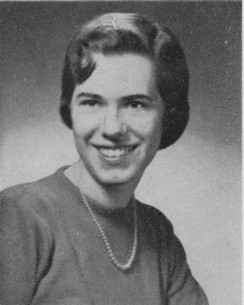 Carolyn Jane Bope
Obituary from Jacksonville, Florida newspaper
Mrs. Carolyn Bope Johnson, Jacksonville, age 57, passed away March 12, 1996. A native of Columbus, Ohio, she has resided in Jacksonville since 1988 and she was an active member of New Life Christian Fellowship. She is survived by her husband, Delbert Johnson of Jacksonville; 2 sons, Karl Paoletti, Jr., Fort Lauderdale, and Kenneth Paoletti, Issaquah, WA.; one daughter, Kathleen Paoletti, Jacksonville; her parents, Don and Ethel Bope, Wilmington, OH; 2 sisters, Kay McCormick, IN, and Janice Trout, Wilmington, OH; 3 stepsons, Rodney Johnson, Cambridge, OH, Steven Johnson, Ashland, OH, Russell Johnson, Plain City, OH; and 4 grandchildren.
Written by Carolyn to classmates in 1992
The plans for the class reunion look super. I appreciate the newsletter; thank you for remembering me. I regret to say I will not be able to attend due to a previous commitment.
Three years ago at the urging of my husband, I started to attend Jones College here in Jacksonville. Summer term starts May 4th and ends in late August. So I will be busy. I will be graduating in another year with a BS in Accounting & Computers. Going back to college has been a pure delight.
Joanne, I was surprised to see your address. We lived on the other side of Morse Road for about 17 years. My children all graduated from Northland and OSU. Wish I had known we were neighbors.
Please keep me posted in any future plans as we do want to attend the next reunion.
We send our best wishes to you and the rest of the class.