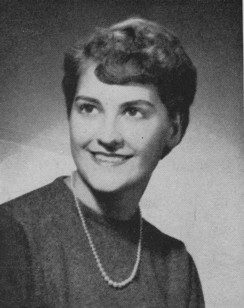 Sally Suzanne Behmer
Provided by Sally Behmer Murray for the reunion of 2007
I retired from the corporate world as a young mother to devote my time to raising my four children, who went on to present my husband, Larry, and me with nine grandchildren. I now spend as much time with them as possible. I still enjoy swimming and Larry and I both enjoy doing our own landscaping. We are also active in our local homeowner's committee.
Of my Grandview days I remember Bobcat sporting events and selling hot dogs at them. I remember playing field hockey, my friends, and growing up in a small town.
Regarding school I remember Dorcas Truckmiller's speech class, fun in study hall, and our great class of '57.
Since then I have had 48 wonderful years of marriage, family, and caregiving.
---
Written by Sally to Classmates in 1997
Larry and I have been in Monroe, Louisiana since January '97 where Larry is doing consulting for General Motors. This is the first reunion we've missed. We want to say a warm hello to everyone. We will miss seeing you. We have added four grandchildren since the last reunion, making a total now of six. Mabel turned 85 in August and resides at Seaton Square North in Columbus.