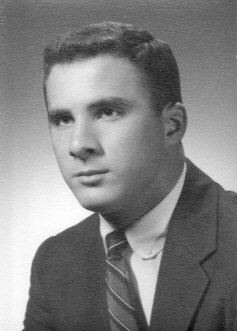 Donald Ralph Abbruzzese
Provided by Don to classmates for 2007 reunion
I am now retired from my dental practice of 30 years serving the community of Hilliard, Ohio. Barbara and I raised two children. I can now devote as much time as I like to my favorite pastime - cooking.
Looking back, I remember Grandview as a special place - where you could walk down the sidewalks in the evening without fear, a safe haven. I remember when you were out messing around with your friends, you didn't want to do anything wrong, no matter how far you were from home, because there was a good possibility an adult who knew your parents would see you and tell your parents, a safe haven. I remember walking from Ashland Avenue to the swimming pool and home again most days during the summer. We would walk past Jeanne La Macchia's house down through the "Desert" to get to the pool. I remember the Soapbox Derby on Grandview Avenue hill, Halloween window painting on Grandview Avenue, playing kick the can, first bounce or fly or hide and seek in the street on Ashland Avenue. In Junior High we used to play softball and basketball on the tennis courts below the hill and then ride our bikes up Kenny Road to Gables Dairy on Godown Road and then back. Those are a few fond memories of my growing up in Grandview.
And regarding class of '57, who could forget putting David Handel's car in the lobby of the high school. This took planning and team work.
After high school, I attended and was graduated from Xavier University with a BS in biology. While at Xavier I was class president for two years. I also served on the student council, was Class Ring selection Chairman, Prom Chairman, and Senior Week co-chairman. I then went on and got my DDS from OSU in 1966. I served in the 464th Medical Detachment of the U.S. Army spending considerable time in Germany.
My community activities in the past included:
Advisor for the Dental Assistant Training Program at Tolles Technical School
Cub Scout Pack Master for Pack 734
Advisory Board of the Hilliard Recreation Center
Treasurer of the Hilliard High School Athletic Boosters for 3 years
Founding member of the Hilliard Area Chamber of Commerce, President and Vice President
Study Committee for Cemetery Road Expansion Project
Chairman of the First Annual Hilliard Christmas Parade
Campaign Finance Chairman for the New Hilliard Davidson High School
Founding member of the Hilliard Education Foundation, President and Vice President
American Legion Post 614
Knights of Columbus
In parting, I am thinking of those past reunions that were so enjoyable, thinking of those who will be unable to attend our 50th, and thinking of those who have passed away. Wishing good health to all my classmates and looking forward to many reunions to come.
---
Written by Don to Classmates in 1997
How fortunate we were to grow up in Grandview when we did. The values we learned have served us well. There were happiness and tears, successes and failures, but through it all we learned and matured in Grandview--a safe harbor.
---