Tri-Village News - Sept 10, 2008
Sad ending for Drexel Grandview theatre by Donavon Campbell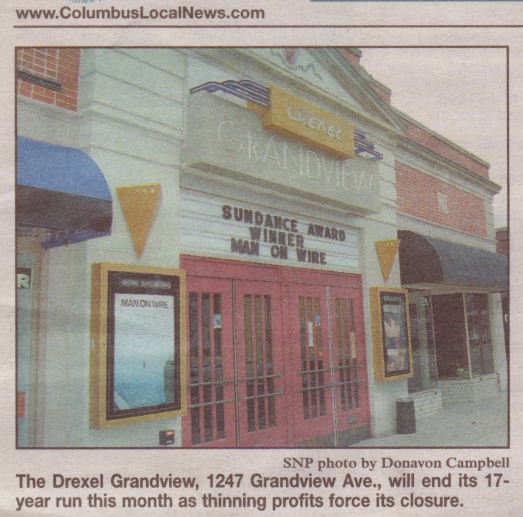 The curtain will go down on a cornerstone of Grandview Heights culture by the end of the month.
Drexel Grandview theatre co-owner Jeff Frank, who forms the Drexel Theatre Group along with his wife, Kathy, said the classic one-screen venue, located at 1247 Grandview Ave., will close by the end of September due to a lack of income.
"I'm really attached to this theatre," Frank told The Other Paper on Sept. 3. But according to Frank, the theater, which has been open for 17 years, has been a financial sieve recently. "We've lost a great deal of money over the last year," said Frank. He said a "grand closing party" will be held Sept. 27.
According to Frank, the group was unable to make a deal with landlord Virginia Stoltz to potentially purchase more of the building and add a couple of screens that might help revenues; a similar move boosted profits at the Bexley location. Stoltz was not available Monday, Sept. 8 for comment.
Grandview Director of Administration and Economic Development Patrik Bowman said the city has spoken with both sides, and he said he's sad an agreement couldn't be reached. "We're greatly disappointed," said Bowman. "(The Drexel Theatre Group) can't make what they need with just a single screen." Bowman said city staff will help work with Stoltz to find a way to fill the building. "Now we've got a building that we don't know what to do with," said Bowman. "Our preference would be that the movie theater remain. "It helps define our town center (along Grandview Avenue)."
Ron Clark, co-owner of the Dance Plus Ballroom, one of the Drexel's neighbors at 1255 Grandview Ave., said the closing of the theater is a truly sad event. "It's very sad," said Clark. "We've been here 28 years and we've been here since they opened. They brought a lot of people from all over (Columbus) to Grandview. "We think it's part of the charm of Grandview."
Theresa Walton, who works at the Village Squire Barber Shop a few doors down from the theatre at 1267 Grandview Ave., said she frequenntly walks to the theater to watch movies. "I just hate to see it go," said Walton.
Sam Ellis, a manager at Spagio Wine Cellar--connected to the Spagio restaurant at 1295 Grandview Ave.--said even though he lives in Clintonville, he still makes quite a few trips to the Drexel. "It sucks (that the theater is closing)," said Ellis. "I think it's just a sad state of affairs when the market can't maintain (the Drexel Grandview) anymore and we have to go to these huge megaplexes."
Ellis also pointed out that losing the Drexel could lead to a slight dip in business for places such as Spagio and Jeni's Ice Cream, because people would come and have a glass of wine or dessert before or after a show.
Chef Hubert Seifert, owner and founder of Spagio, has been on Grandview Avenue for 29 years and said he always thought the space where the Drexel currently sits was perfect for a theater. "I used to go in back (of the Drexel building) and look around and think, 'Oh, wouldn't this be great to have a theater?'"said Seifert. "I thought it was a great idea (when the theater opened.) "We saw a lot of happy people (because of the theater)...and now it's a very sad story."